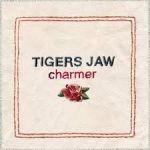 When three members unexpectedly quit Tigers Jaw last year, many presumed that it was all over for the band. Confusion amplified when the two remaining members continued to tour, drafting in friends to fill the vacant spots and then a new album was announced – with all three of the ex-members returning to fulfil their recording duties. However, extraordinary circumstances can often produce equally extraordinary results and amongst the chaos of their backstage lives, Tigers Jaw managed to produce 'Charmer' – the strongest release of their career.
Part swan-song, part phoenix rising from the ashes, 'Charmer' is a multi-faceted release, tackling a relationship breakdown from both sides. It wears different personalities and perspectives then discards them in the next verse and even has its own lexicon, one which drips with Twin Peaks references and humour. Ben and Brianna's vocals sounds better combined than ever before, confident in their maturity yet still remaining vulnerable. The harmonies on the improved 'Hum' sound more in sync than ever before, with neither taking centre stage.
The album's main theme focuses on the end of a relationship from both perspectives.  While Ben sums it up with, "I was blind to how you destroyed me, you have a talent but you know that" in 'Nervous Kids' and "I was a wreck and you were the saviour type" in the catchy 'Frame You', Brianna counters with, "maybe I am a liar, and there is nothing that is left for us, you are a permanent scar". This mixed perspective storytelling suits the dual vocals of the band, and gives 'Charmer' layers that the band hasn't fully utilised in the past. The intimacy of this relationship is cemented with Twin Peaks references, used like an in-joke between a long-term couple – "shout them from the top of the Twin Peaks" and "fire walk with me until I'm dead" add a knowing nod for fans.
Alongside this theme is the 'Charmer'that takes the album's title. A Brett Easton Ellis-type character on the surface, a portrait of narcissism and egotism, their throwaway attitude is the first thing that's apparent. The lines of 'Cool' and 'Slow Come On', declare, "All the girls are so champagne" and "I don't ever take your calls, because I don't ever want them – does it turn you on?" Yet the end of 'Slow Come On' tears down this facade, with a piteous repetition of "Let me in, let me in, let me in".  'Slow Come On' and 'Cool' justify each other as the formers "Why am I so cruel?" is answered with "It's a cruel world, but it's cool." While this could appear abhorrent, even misogynistic out of context, it's obviously a faux-persona, rendered absurd by the heartfelt lyrics of 'Nervous Kids' or 'Soft Spoken's' "Can't fix your life, can't even handle mine".
While the majority of the album is amazing, there are a few missteps, 'I Envy Your Apathy' has a dull Interpol-like drone and closer 'What Would You Do' is not only repetitive but way too long.  However, in the whole picture these flaws hardly matter.'
Overall, 'Charmer' is Tigers Jaw's masterpiece, creating deep meaning from simple hooks and lyrics – all while making it sound easy. While we can't know what to expect next from the duo – at least we can revel in Tigers Jaws' refusal to die quietly.
5/5
'Charmer' by Tigers Jaw is out now via Run for Cover Records.
Tigers Jaw links: Tumblr|Facebook|Bandcamp|Twitter
Words by Jay Sullivan