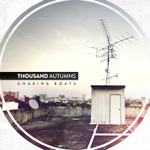 Thousand Autumns may be a relatively young band, but that shouldn't undermine their determination. They've played impressive gigs, supporting the likes of Hawthorne Heights, A Lot Like Birds and Polar. to name a few. And now, this London quartet are gearing up to release their next EP, 'Chasing Boats', which was produced by Romesh Dodangoda, the mastermind behind albums from Bullet For My Valentine and Funeral For a Friend.
Despite being only four tracks long, there's no denying the rousing passion and flaring energy that grips these songs. Opening with 'White Compass', Thousand Autumns don't hold back, diving in with roaring drum work and blistering vocals. 'Mud' and 'For You' twist roaring choruses with pounding drum work, creating near perfect post-hardcore tracks.
'Chasing Boats' ends this EP – five minutes long, it slightly draws out their ending a bit too much, but it's still a melodic piece of work. Sweeping guitars give way to elephantine vocals, backed with bouncy gang vocals, while their riffs absolutely pummel ear drums into dust.
'Chasing Boats' is a solid piece of work, demonstrating the wealth of talent that Thousand Autumns have to offer. Their drive and motivation means that this definitely isn't the last we've heard of these guys. In fact, it's merely the beginning.
4/5
'Chasing Boats' by Thousand Autumns is out now.
Thousand Autumns Links: Website|Facebook|Twitter
Written by Jess Tagliani (@JessTagliani)