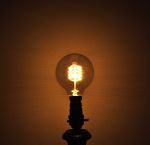 'Searching The Brittle Light' is the debut album by Surrey based songwriter Thom Bowden. With some critical acclaim from both mainstream radio and the ever expanding blogosphere, this album has some expectations from its inception. Those expectations are sky rocketed when one realises the legendary Steve Albini (the guy that produced 'In Utero' by Nirvana) has recorded and mixed the record, setting a very high bar that ultimately proves too lofty.
It is somewhat clear what Thom is going for on this debut. The name of the game seems to be old school bluesy rock. And the way to get good at any game is practice, trial and error specifically. One would hope that Steve Albini's presence, and so implicit approval, would have ensured that Thom wasn't someone who was still going through the frequent error stage, but alas, this is what's happened here. The album has about 1 solid success on the penultimate track, 'In The Ground', but by that point, with 8 songs preceding it, the coffin was already 6 feet deep. 'In The Ground' feels like the song the whole album wants to be but hasn't achieved.
Well, actually this song is more like what half of the album achieved. Track listing and flow can be an all too forgotten and 'Searching The Brittle Light' exemplifies the dire consequences of this negligence. From the second song onwards, the album alternates between electric guitar driven rock and soft acoustic numbers locked in a unceasing alternation that stifles the momentum completely.
The rock numbers aren't that exciting and often feel amateur and cliché. When some records sound like a jam in a garage, they sound organic and imbued with a delightful musical chemistry. This one sounds more like a very young aspiring classic rocker writing his first riffs; the track 'So So Long' kicking off the album at a plodding pace, occasionally punctuated by obnoxious chord stabs. On the other hand, the softer side of the album, made up by the likes of 'The Water Is Cold', 'My Army', 'How About It?' and 'Sweet And Tender', is simply nowhere near convincing. The wavering, distressed vibrato to Thom's voice sounds like a try hard impression of his Radiohead (first) name sake.
In fact, to back track a second time, this isn't really an issue of flow at all, more one of a forced marriage of what should have been 2 EPs. This is a prime example of an incoherent album. If this was indeed split up into 2 EPs, the songs may well have benefited from their summation, possibly introducing mounting tension and intensity. But this isn't the case, and not even Steve Albini can rescue an album whose flaws are structural rather than sonic.
2/5
'Searching the Brittle Light' by Thom Bowden is out now on Audio Candle.
Thom Bowden links: Facebook|Bandcamp|Twitter
Words by Nick Povey