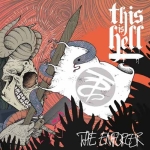 This Is Hell from Long Island have been a band for a fair amount of time. Taking each release up a grade and laying on the heavy riffs in the more recent affairs, 'The Enforcer' EP is again, a next level step. At 4 tracks this EP stands at only 11 minutes, but it's an 11 minutes you won't be disappointed with. Although not entirely my "thing" personally, I can see the progression This Is Hell have taken, and you can be sure of one thing; that they will unashamedly do their own thing, their own way.
Tracks like 'Flag Of The Serpent' prove how much they take influence from bands such as Metallica and it's overall unapologetic and a bold track. Despite actually being a Metallica cover, 'Whiplash' has to be my favourite track of the record. To see a band such as This Is Hell take on a track from one of their most obvious influences is brave. However, they pull it off tremendously, offering a completely different vocal approach which pays off for them.
'The Enforcer' is the previously released single from this record, and has already seen itself receiving praise. An unforgiving approach which has great potential in places, with energizing melodies and well pulsed riffs. The other new track, 'Walking Abominations' is quite melodic vocally in places, and it's the track of the EP that holds the most promise. If this is a precursor to a new full length, then I believe there's a high chance that the record could receive praise from all.
3.5/5
'The Enforcer' EP by This Is Hell is available digitally available now and will be released 7" on 4th March through Holy Roar Records.
This Is Hell links: Facebook|Twitter|Bandcamp
Words by Rosie Kerr (@Rosiekerr)