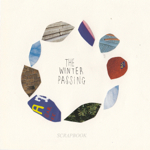 Given that the current wintry weather seems unrelenting, it's a relief to hear that, at least in this band's case, The Winter (is) Passing. This young Irish quintet should be familiar to long-standing readers of Already Heard, having had their recent UK tour alongside Forrest bearing the name of the site. The band play a blend of emo, punk and indie rock which should be familiar to fans of the likes of Tiger's Jaw, Balance and Composure and Johnny Foreigner, whilst also adding their own twist to the facets those bands bring to the table.
This short EP begins with
'1990'
, a sprawling introduction to the kind of styles 
The Winter Passing
 encompass, with a crisp production style that brings the best out of the elements at play. This is followed up by
'Crooks'
, which features the kind of chiming, chunky pop-punk riff Blink-182 are famed for, buried under fuzzy effects pedals and layers of feedback. This track shows off the considerable vocal talents of siblings Rob (not to be confused with the Machine Head singer) and Kate Flynn, as their differing styles compliment each other wonderfully.
'Gold Blend Part 1' continues proceedings with a more mid-tempo, grungey number, which features a punchy, celebratory middle-eight into a big finish, which ought to garner rapt attention in the live arena. 'Feels Like' acts as a curtain closer which really shows Kate Flynn at her finest, her soaring vocals taking precedence on this track, before ending abruptly.
>After appearing on splits here and there, this is the first chance for prospective fans to really get their teeth into the sound of The Winter Passing, and this opportunity is snapped up competently by the five-piece. With a running time of around 12 minutes, this provides a brief snapshot of what TWP are all about. Alongside acts like the aforementioned Forrest and Moose Blood, they refer to themselves under the umbrella of "Emo Is A Gang", but you'll be treated rather more kindly here than by the Bloods and Crips
3/5
'Scrapbook' by The Winter Passing is out now on Struggletown Records, View From The Attic Records and Something New Records.
The Winter Passing links: Facebook|Twitter|Tumblr|Bandcamp
Words by Ollie Connors (@olliexcore)