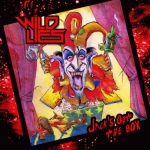 Whilst listening to the heavy rockers The Wild Lies you will instantly be taken back to the familiar sounds of Guns N' Roses and Aerosmith with their electrifying guitar riffs, stadium rock choruses and intense energetic melodies.
'Jack's Out The Box' is a classic rock EP with all the finest trimmings including outstanding exhilarating instrumentals, a fast-paced beat and captivating choruses. It gives a tiny taster to the band's vigorous sound and talent; leaving you hungry for more. If you love classic rock bands such as KISS, Van Halen and AC/DC you will definitely enjoy this fresh young quartet.
The EP has a wonderful introduction with 'Falling,' a lively fast-paced track with a punchy melody and cram packed with awesome thrilling instrumentals. The song showcases powerful exciting guitar riffs from the talented Rob Gamble. The record follows in the same direction with 'Stone Cold Love' and 'Relive The Ride,' more classic rock tracks with catchy choruses, a heavy beat and a energetic pace. The tracks star more instrumental talent and will get you on your feet dancing or head banging along.
The EP changes swiftly with 'Beginning To End', a beautiful ambient acoustic-style ballad, full of pure emotion and passion. The song is a bold statement from The Wild Lies; showing their true talent and potential. The track helps create diversity in the EP, and a wonderful rare treat for any rock ballad fans. 'Jack's Out The Box' returns to the dynamic rock style with the final track 'Heartbreaker,' a speedy paced hard-hitting song that gives a fantastic finish to the EP. The Wild Lies are undoubtedly a talented band, successfully reviving the classic heavy rock sound. They have produced an incredible EP to showcase to all, helping to stamp their mark on the music scene.
However, I do wonder if the tracks lack some innovation and variety. Apart from 'Beginning To End', the other songs all have a far too similar sound. The band after all is producing music that has already been done again and again – to death. It is a tricky task to find a new creative spin on that style. But nonetheless The Wild Lies are an awesome new band that deserve a listen, you won't be disappointed!
4.5/5
'Jack's Out The Box' by The Wild Lies is available now.
The Wild Lies links: Facebook|Twitter
Words by Chantelle Kelly (@ChantelleKelly3)