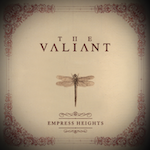 The Valiant is a metalcore band residing from Southampton. While the scene in general is crowded with a whole host of bands using the cut and paste methods of creating music, can The Valiant stand their ground?
'Empress Heights', while being the first release from the band, holds its head high with its ability to showcase a good clean metalcore album. The riffs are melodic as well as weighty while the drums are able to progressively act upon the mood of the tracks present. However, the most impressive feature are the vocals. Following very closely to Bury Tomorrow's approach, harsh vocals scatter the 'hefty' areas and the clean vocals are chorus abundant, which allows for diversity and is executed extremely well.
Kicking off with a rather uninspiring introduction track, 'Origin' is an ambient burner with piano segments, but does fill its role of creating an atmosphere. This leads into the opener track of the album 'Changes' which follows a more traditional suite of metalcore including: heavy riffs, melody and breakdowns.
Continuing in pace is 'Alive' with energising guitars and chugging passages while having the wonderfully oxymoronic vocals complementing each other. Applying the same mechanic structure to other songs such as 'No Surrender', 'Dead and Buried' and 'Reaper,' 'Empress Heights' shapes itself well by playing on it's own strengths and not drawing any of the songs out to boredom or filler. 'Convictions', a highlight of the album, showcases the strongest aspects of this band; the contrasting vocal types. The song starts fast but evolves into a stunning melodic gem with an awe-inspiring chorus and crescendoed ending leaving the listener wanting more.
This isn't an earth shattering release by any means, maybe even considered a 'metalcore-by-numbers' approach. For every little element, which has been copied or borrowed from other bands, it has been done with the utmost reason and this reviewer cannot fault the absolute polish this album has. 'Empress Heights' has built a solid foundation for future releases and The Valiant have pulled off an impressive debut.
4/5
'Empress Heights' by The Valiant is released on 20th January.
The Valiant links: Facebook|Twitter
Words by Grant Fullick.