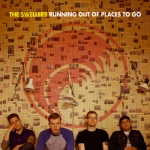 If there is one thing that wasn't surprising to hear about it was that The Swellers had packed their bags and moved out of their major label home at Fueled By Ramen. With some new found freedom and out in the world on their own the band took stock and decided to go back to their DIY roots with their 'Running Out Of Places To Go' EP release.
The band has pretty much done everything for themselves with this new EP. Guitarist/frontman Nick Deiner took to the helm and produced and recorded the whole EP at his home studio back in Michigan. And what has been made does have that DIY feel to it and makes it alot more accessible and has a nice homely feel to it.
<a href="http://theswellers.bandcamp.com/album/running-out-of-places-to-go" data-mce-href="http://theswellers.bandcamp.com/album/running-out-of-places-to-go">Running Out Of Places To Go by The Swellers</a>
Enough of the bands back story and how they got to this point, let's move onto the EP itself. Opening track 'Hands' starts off with a light drum and guitar intro which quickly powers into the perfect punk sounding guitars. The song is a great way to start the EP and lets listeners know what to expect an emotive fast paced EP.
'Let Me In' starts with some catchy guitar work but soon enough goes into some chunky sounding guitar riffs. Nick touches upon some positive lyrics in the song singing "When the buildings fall down, I'll be standing my ground..get up and don't waste my time" giving off an overall positive vibe throughout the song.
The band of course touch upon how they feel towards an old friend singing on 'Bad For Mel' "Did you earn the right to take this sound, do you want the answers the answer it's way underground, the caskets caving in,  I'll let it die with me again yeah..I gave you my trust, you let me die" and also on 'Making Waves;' "So thanks alot, coz I'm making waves and you're not, I'm done taking bad advice if that's fine by you". The band clearly giving the said "friend" a kind middle finger salute to show that they're better off on their own and their doing just fine. Both songs are of course coursing and oozing with some fast punk rock beats and heavy sounding bass lines and showcase some catchy guitar work.
The last song 'Running Out Of Places To Go' has to be the standout track on the five track EP. The song dips and peaks between slow sounding guitar work with heavy bass lines to full on chunky guitar riffs backed up with some great lead guitar work, when all mixed together works really well.
What the band have made is nothing too over the top or flashy but an overall solid sounding EP that shows the band are on the right path and doing what they've always wanted to do without having a record label holding them back.
4/5
'Running Out Of Places To Go' by The Swellers is out now on Snowbird Songs and Xtra Mile Records.
The Swellers links: Tumblr|Facebook|Twitter|Bandcamp
Words by Aaron Wilson.