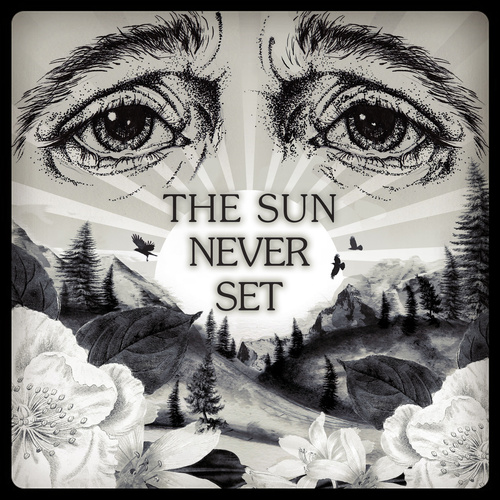 There aren't many bands these days that put out a great debut EP. In some cases it can feel rushed, or pressured. Sometimes, clearly manufactured and molded by everyone but the artist. It's sad, but it's true. Fortunately for this up and coming post-hardcore band from London, The Sun Never Set, none of that seems to be an issue.
These five young men seem to really have a tight grip on their own idea of the metalcore genre. A genre in which, these days is tough to really stand on your own with a dignified sound. The first single off this self titled debut, 'One Drop of Blood and We All See Red', is a great introduction to this band if you haven't heard them already. It's a perfect blend of melodic, spacey guitar riffs glazed over a gritty and heavy rhythm that's tough to ignore. Then again, it'd be near impossible to ignore any song with an intro such as this one. It kicks off with vocalist, Luke howling, "I'm the killer and you never even knew/We bite to break skin", and as the song goes on, you start to pick up on the vengefulness behind these lyrics.
The first song on this record, titled 'Artforms', is a personal favorite. It caught me off guard at first since I purposely listened to the single before I gave the full sequence a shot. The song starts off with a nice and somewhat soft lead guitar that sort of just glides it's way in. If I had to compare it to anything I've heard before, I'd say it's reminiscent of an earlier Underoath song. Once it all kicks in, it takes you to a different place emotionally. Very heavy, but it doesn't come off as if its being forced. As a first time listener, I can see clearly that these guys put a lot more thought an emotion into their songwriting before attempting to be that band with the heaviest breakdowns in the "scene" or who can shred faster than the other guy. There's something to be said about that, especially in the current world of metalcore.
I have to say, this EP is one hell of a first impression. It sneaks in slowly and when you least expect it, it attacks with a vengeance. If you're a fan of bands along the lines of Underoath and Bring Me The Horizon, this is a new record you'll really enjoy. Keep an eye on these guys!
4/5
'The Sun Never Set' by The Sun Never Set is out now.
The Sun Never Set links: Facebook|Website|Twitter
Words by Tom Kunzman (@TomKunzman)