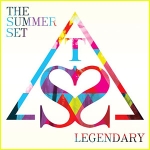 Alongside "banter" (which seems to be used as a common euphemism for "being a c**t"), "legend" may be the most overused and abused word in the English language. King Arthur and the Knights Of The Round Table are of legendary status, not your mate who just allowed you to eat one of his crisps. One of the progenitors behind the use of this term is Neil Patrick Harris' character in CBS' moribund "comedy" series How I Met Your Mother, Barney Stinson, who uses "legendary" to describe even the most mundane of activities, like going to play LaserQuest in your mid-twenties. It is this term that's provided The Summer Set (unfortunately not named for the West Country home of cider, The Wurzels and Glastonbury) with a title for their third record, which sees the Scottsdale, AZ quintet aim for the same arena-filling stratosphere as their peers in groups like fun., All Time Low, The Maine and The Cab.
Debut 'Love Like This' was a carefree, exuberant pop-rock record, whereas follow-up 'Everything's Fine' had a more mature, refined edge to it, and 'Legendary' finds The Summer Set somewhere in-between. Their first record for new label Fearless, this sees them return to the energetic style of old, with a glossy sheen throughout. This album's ten tracks all land considerable melodic hooks and boast towering beats; the only problem being there's very little at hand to discern between them.
You could attempt to do so by distinguishing between pop culture references – there's somewhat of an overload on 'Jukebox (Life Goes On)' which namedrops Dawson's Creek and The Boss himself, Bruce Springsteen, and 'Boomerang' manages to cram in Jay-Z/Beyoncé, Da Vinci/Mona Lisa and James Dean/Audrey Hepburn into its refrain – in addition to this, the eponymous closing track references the aforementioned '…Mother' (if you haven't seen it, it's basically a father regaling his children with tales of how many women he did the bone dance with back in the day). However, these little referential nuggets are all delivered in the same nasal, Autotune-aided vocal of Brian Dales backed by identical pulsating synths, therefore eventually grate as much as the other vapid, Gorgonzola-scented vignettes.
As for "highlights", it's mostly a question of how much you can take of the same song repeated before turning this album off – definitely not amongst the top tracks are the vacuous 'Fuck U Over' and the punishingly tedious 'Happy For You' the two constituting a nadir of this album's mid-section, which The Summer Set fail to recover from in the latter-half, despite making a decent effort with The Way We Were'. This is clearly aiming for mainstream radio and Top 40 stardom, and in a day and age where the manufactured One Direction are the biggest band on the planet, at least this is a band that have slogged on the road. However, "real" or "organic" this is not, and the synthetic shimmer of this album is ultimately to its detriment. While this record posits its "legendary" status. you'd be better off using your "leg end" to kick this one into touch.
3/5
'Legendary' by The Summer Set is released on 15th April on Fearless Records.
The Summer Set links: Official Website|Facebook|Twitter
Words by Ollie Connors (@olliexcore)