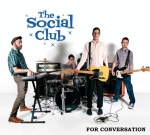 I remember a few years ago when radio friendly rock seemed to be everywhere, dominating the airwaves and charts, and was looking to be paving a way for rock music to be making a more commercial move back into the public eye, but then it just disappeared from what I'm aware. I have no idea why though, it wasn't too bad and there wasn't a reason for the bands not to make more of a name for themselves. The Social Club have that touch to their sound, and they seem to have all the elements that they need to make a name for themselves.
'Live From The Subtrunk' has that upbeat feelgood sound to it that suggests The Social Club are suited for the radio, and it's only a matter of time before they get to that stage. Changing tempo a little with 'Greco Romance' gives you a chance to take in more of what the band are capable of, including backing vocals laden with harmonies. Another ideal radio song.
More American than the previous two songs, 'She Can't Keep It' stands out more to me, with a Jimmy Eat World influence which doesn't hurt. Sounding a little rockier as the EP goes on, 'We're On The Corner' has caught my ear once again making me realise that the EP didn't stand out to me until now. Closing with resonating harmonised vocals gives the song a real mature touch. Such a great way to end the song.
Heavier again, 'A Steady Hand For A Buttoned Lip' has captured what I heard at the beginning but given it that raw edge they've been sounding like in the previous couple of songs.
I can't help but feel that the EP had lacked some of the heavier elements they were capable of displaying in the right way in the last few songs. The first couple of songs had a nice innocent sound that would be fit for radio, but there is obviously a maturer side to The Social Club that displays more of what they're capable of. As these guys continue to write I feel they'll grow into themselves well but for now I think they just need that little bit of direction to get themselves better known.
2.5/5
'For Conversation EP' by Social Club is available now on Alcopop Records
The Social Club links: Official Website|Facebook|Twitter|Bandcamp
Words by Callum McPhee