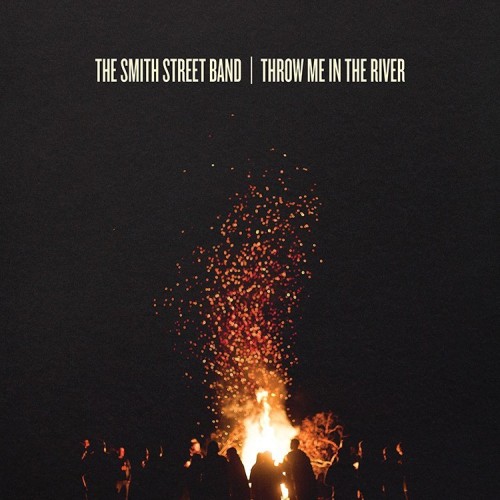 The Smith Street Band have started receiving some very serious acknowledgement from the punk rock community in recent times, and with just cause. The boys from Melbourne, Australia have been touring their hearts out, taking their rabble-rousing, pulsating folk-punk sound from shore to shore, and luckily for us lot giving the UK a great deal of attention in the process.
But there's more to this band than just hard work, as their third studio album will attest to. These guys have got songs – really fucking great songs. And in 'Throw Me In The River' they've created a record that has to be among the nominations for the finest punk rock album of 2014.
If I'm honest, the first time I saw these guys under pseudonym The Lee Hartney Sex Drive at Mancfester I wondered what all the fuss was about. They sounded okay, not great – maybe I was too drunk or possibly distracted by Throwing Stuff's superb 'Not My Chancellor of the Exchequer' t-shirts on the wall next to me. However, it was clearly evident that the crowd loved them, and I mean loved them.
Then supporting The Menzingers a month later it clicked. It was one of those situations where if you'd walked into the venue halfway through their set you'd have thought they were the headliners, such was the fervour stirred up in the crowd and the passion with which they sung every word back. With Jeff Rosenstock from Bomb The Music Industry!'s production they have captured every ounce of this spirit and love of performing on the record.
For the uninitiated, singer/guitarist Wil Wagner's thick aussie accent takes some getting used to – mostly just because you're so used to hearing this kind of sound sung by a Brit. But once you get familiar with it you realise Wagner's voice is a real driving force in the band, capable of warmth and charm and at the same time full of strength and exhilaration.
'Something I Can Hold In My Hands' is the stirring, explosive opening number, and it's theme of new beginnings and finding out how to enjoy life against all odds, as expressed by the lyrics "for the first time in my life in my life I'm smiling when I wake", sets the tone for the rest of the record. It's followed by the equally engaging and heartfelt 'Surrender'. You wonder when the first bum track will arrive, and it doesn't.
'Calgary Girls' is a genuinely moving, slightly more delicate track about a beautiful relationship that couldn't last, and then 'East London Summer' swings along for the ride – big, bold and ready to party as hard as possible as Wagner pleads "give me East London summer give me North Melbourne – summer!"
The Smith Street Band, whilst more than competent, are not the greatest songwriters you've ever heard, but they more than make up the shortfall with their zest and commitment, and the fact that every song comes loaded with an enormous chorus that every single crowd on their tours is going to sing at the top of their voice. These guys are going to break more larynxes than hearts.
The crowning glory of the album is title track 'Throw Me in the River', which contains a chorus so blow-your-hair-back powerful I defy you to play it loud and not get a lump in your throat the first time you hear it.
I don't think I've been able to say this about enough albums I've listened to in 2014 – but 'Throw Me in the River' is an essential purchase and I'll be surprised if I hear a better release this year. If you're not already on-board then go get it, go see them and enjoy one of the finest new bands to become part of your collection.
5/5
'Throw Me In The River' by The Smith Street Band is out now on SideOneDummy.
The Smith Street Band links: Website|Facebook|Twitter
Words by Alex Phelan (@listen_to_alex)