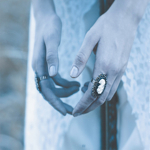 Very few active vocalists can honestly claim to have mastered the skill of conveying despair and agony as well as Andy Maddox has, in fact it is quite likely that The Saddest Landscape's singer is unrivaled in this respect. After the emphatic niche success of 'You Will Not Survive' back in 2009, the quattuor followed-up with the equally impressive 'After The Lights' in 2012, introducing subtle hints of welcome experimentation to the powerful formula they have made their specialty. They returned rather swiftly to the studio and now reappear with their new EP 'Exit Wounded', and they reveal no evidence of slowing down.
However, those light elements of experimentation that elevated 'After The Lights' a fair way above its peers are largely discarded here, where the band seem to retrace their steps to rekindle with a more direct, aggressive, and possibly still-more angst-ridden approach. The loud-quiet dynamics are still present and, more importantly, still effective; the heavier moments feel consistently more frantic than on their previous material; Maddox's voice is perhaps clearer than ever, and he has lost none of its gut-wrenching intensity
For the most part then, its business as usual. Opener 'Those Yet Lived' and 'Redefining Loneliness' might nearly be considered run-of-the-mill by now (the large spectrum of The Saddest Landscape fandom can decide whether that's a good or a bad thing). Immediate and powerful, 'Heartbroke & Fear Sick' has Maddox screaming his lungs out and aggressive salvos of heaviness but shifts to leaner, softer (somewhat post-rock tinged at times, a notion yet more evident in the closer) sections only to build back up again. Maddox's vocal work shines here, and certainly resonates to a much higher degree than anything else on the EP.
'Coffin Like Ours' takes a very similar route to 'Heartbroke & Fear Sick', which follows a loud & short/quiet & long/build-up finale structure. Consequently, following-up on such an impressive track can often lead to a shift in evaluation standards, leaving the former a disappointing little brother to its counterpart. All is forgiven, however, on closing track 'Breath In A Darkened Room'. Largely instrumental (but for the final saturated screams), the band experiment with their usually short dabs at atmospherics by building emotion from instrumental composition only, and it's a successful attempt. A slow crescendo, the song starts with softly reverberating guitars, enters crashing cymbals territory and dies in a sea of noise and Maddox's muffled cries of agony. BANGCRASHAGONY.
3.5/5
'Exit Wounded' by The Saddest Landscape is out now on Topshelf Records.
The Saddest Landscape links: Website|Facebook|Twitter|Tumblr
Words by James 'Bearclaw' Lewis (@swissbearclaw)