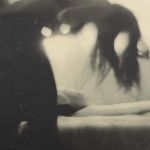 So, The Saddest Landscape and My Fictions did not, as most bands do, release a split. They went and created a collaborative record: one song each plus a third song in the form of a 13-minute piece of magnificence by the name of 'When You Are.' But I'll get to that later.
First up on this three-tracker is My Fictions' own 'You Never Stay'. A brilliant burst of hardcore noise that starts hard and maintains the intensity. My Fictions absolutely shred. It's unrelenting, bordering on the grotesque – A living reminder that the raw and the furious are forever at the heart of hardcore.
With My Fictions having set the bar so high all the pressure is on The Saddest Landscape to keep to such a high standard. Or at least the pressure may have been on if they hadn't hit the mark within the first second of 'Loss Will Find Us'. Coming to life like a shot before twisting through varying degrees of desperation from the intensely chaotic to slow, breathless builds. At times it could be jarring. Truth be told, 'Loss Will Find Us' does legitimately appear to operate as two songs rather than the one it claims to be. That being the case though, I'd just consider it more bang for your buck. One song or two, The Saddest Landscape bring the big guns to this one.
Now for the collaborative track: where does one even begin reviewing a 13-minute monster created by seven guys from two different bands? I suppose there's two ways around it. There's the shortest route: oh my, this is incredible. Then there is the much longer alternative wherein each and every section, and contribution, is detailed and analyzed. I suppose, somewhere in the middle is the detailing of the soft drumming sections, the slow builds, the tumultuous frenzy of the guitars. Then there's the truly haunting breakdown in the middle the track that erupts into an emotionally fraught installment reminiscent of The Nerve Agents. 'When You Are' is just incredible.
Both My Fictions and The Saddest Landscape have put songs onto this record that are truly excellent but neither of those tracks is as good as that which they have made together. Between these two bands, these seven people, and these friends appears to be passion and excitement capable of making something so unique that it has proven itself the cause of some unbelievable songwriting.
5/5
'When You Are Close, I Am Gone' by The Saddest Landscape and My Fictions is out now on Topshelf Records.
The Saddest Landscape links: Website| Facebook| Twitter| Tumblr
My Fictions links: Facebook| Twitter| Tumblr
Words by Thomas Knott (@nounandthenouns)