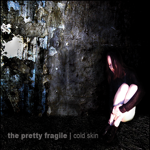 Industrial music has never really stood out to me, so getting to listen to 'Cold Skin' by The Pretty Fragilereally was a new experience. With it being such an underground genre, the opportunity to listen to it has never really come up, although when I have listened to artists such as Nine Inch Nails and Marilyn Manson, I've understood why there is such a hype. 
'We Are Obscene' opens the album, suggesting a grunge influence which is soon overshadowed by the screaming and synths, all showing an obvious Marilyn Manson influence. Quite a refreshing take on the singing, which along with the screaming, shows that not all vocals need to be perfect and defined to improve the music. Great melodic moments really make The Pretty Fragile stand out, and have gained themselves a new fan.
A more industrial sound than the opening song, 'Virus' implements a subtle techno edge to it, with harrowing screams providing the chorus with real energy. The melodic elements continue into 'Velvetina', which is almost a ballad but with Paul Abrey's raw vocals giving it a haunting touch. While the vocals are complimentary to the music, Abrey's voice shows weakness – whether intentional or not – it slightly diminishes the potential of the song. 
'Feel Box' opens with edited audio of a woman having sex, which is slightly weird to hear although it is edited in such a way that it provides the song with a rhythm and integral part to the song. When applied in the right way, sampled sounds work great in music – industrial is a perfect example of this, and 'I Want to Cut It Out' uses it to control the rhythm from the start perfectly. 'Deathroom' and 'A Stain On The Surface Of Things' are other great examples of The Pretty Fragile's great use of it for rhythm. 
Opening with a slightly haunting piano melody, 'The Art of Keeping Control' is a slower song than previous efforts while leading into the closing song 'What Is Inside', another slower song that rises to a dramatic close. 
I may not know much about the industrial scene, but from what I have heard I like. The Pretty Fragile have captured what I've heard and liked, while Paul Abrey's vocals adding that unique touch to it. The sole member of the band, Abrey knows what he wants and how he's going to get it – similar to Trent Reznor of Nine Inch Nails. While I am impressed with the album, there's not that much that would give it reason to stand out amongst it's peers. An undeniably impressive effort that proves to be worthy of the industrial genre, that seems to lack that certain element that makes it truly stand out. On first listen I liked this album, while being distinctly different to everything I'm listening to at the moment, it still holds that edge that will stand out to anyone else that listens to it.
3/5
'Cold Skin' by The Pretty Fragile is out on now on Genius Music.
The Pretty Fragile links: Website|Facebook
Words by Callum McPhee (@Callum0510)