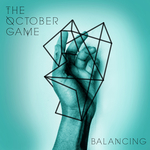 'Balancing' is perhaps the aptest title British alt-rock band The October Game could ever give their third album, so evident is the fragile equilibrium on display here. The second most apt label one might classify the quintet with is that of modern rock. Often misused, in my opinion, to broadly describe any rock band who succeeds in bursting onto the charts, it should be reminded that it was originally used to describe a new global wave of rock bands (starting somewhere in and around the 80s) who looked to confront the conventions of the riff-focused classic rock. The result was a much more groove-centered and danceable brand of rock music, one that ended up being dominated by its giant members Depeche Mode and The Cure. On 'Balancing', the shared ancestry on the modern rock family tree is clear as crystal.
From the brooding electronics and murky guitars of opener 'Answers & Keys' to the final reverberating guitars amidst a sea of fading synth in 'Recover', the album is a masterfully-controlled mix of restrained power. With its electronic style beats and the ever-smooth vocals (virtually perfect throughout), The October Game manage to consistently suggest a menacing force of rock at their disposal, one which they never fully release. Some -most probably those used to the now conventional quiet/loud dynamics- might bemoan them this restraint, but it ultimately gives the album a coherent identity. There's an overarching feel for the gothic that seeps through every track, beautifully brought to life through the band's mastery over their electro-rock core.
I suspect even Jimmy Eat World would find themselves incapable of being so consistently melodic on an album. 'Answers & Keys' builds on a fantastic measured groove with Williams' slick vocal work the flame to warm up the cold atmosphere of its minimal instrumentals. When endeavouring a consistency of sound over the course of an album, the trick is to find the littlest things that are susceptible of giving that distinctiveness to a track. On 'Not Important', it's the understated acoustic guitar licks that form the backbone of one of the album's quieter offerings. On 'Beg Cycle', it's the lovely marriage between the tasteful groove of the bass and guitars with the sorta spoken-word, sorta sung, vocals of Williams (though the reality is every section of this particular track is picked straight out of the top drawer).

The pure delight of 'Labyrinth's melodic progressions, 'Trousers' sense of fun, the 'surely unhealthy underground club' style basslines (or is it 'typical clubs of the future in 80s movies' style basslines? Feel free to debate in the comments) of 'Trust No One'. The October Game are on their game here, and there's barely a misstep in sight and we hear their live show is a cracker. There are now officially no reasons not to check them out.
4.5/5
'Balancing' by The October Game is out now on Scylla Records.
The October Game links: Website|Facebook|Twitter|Bandcamp
Words by James Berclaz-Lewis (@swissbearclaw)