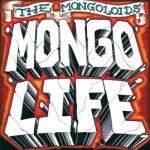 After building a loyal following and garnering much attention from the Hardcore community and the underground press, New Jersey straight edge hardcore punks The Mongoloids return with their third LP 'Mongo Life'. This sees a no-nonsense affair of straight to the point antics that is sure to make the loyalists of the pit go crazy and get their much needed dose of mosh with satisfying results.
The lulling melodic intro of 'Smoke Signals' descends into the hard hitting sound that the band provides from track 2 onwards, which has an identifiable 80's thrash metal influence mixed with the usual wall crunching hardcore bite of their early material. Overall the band sounds like a fully formed tight unit with strong instrumentation delivering the solid output that enters one's ear canal. Little moments like the sombre interval in 'Did You Figure Out An Anthem?' and the slow acoustic flow in the title track, provide a much needed breather from the arm snapping fury.
Coupled with the delivery are the varied relevant lyrics that encompass the inner workings; feelings of indecisiveness in one's future ('Room to Grow') to not giving up and showing your full potential in stressful situations ('All I Am'), provides relatable topics to keep the listener enticed.
However one problem which hinders the band's goal for a really good solid effort overall are the vocals; in a genre like hardcore punk, vocal range and clarity isn't a primary thing to keep fresh and interesting, but over the album's duration, the vocals just end up to be quite grating. The bite and the fury is there for sure, but it just gets borderline tedious after a while. The guest vocals from Blacklisted's George Hirsch on 'Parallels' outshines Greg Falchetto, and provides for a more interesting listen.
In summary, The Mongoloids provide a very entertaining and fun packed record of mosh filled jams that'll have the kids shouting along, stage diving, and kicking the hell out of each other. Despite an Achilles heel, this record certainly made this reviewer want to throw his chair out the window and bang his head vigorously until his neck snapped clean off.
3/5
'Mongo Life' by The Mongoloids is available on 2nd April on Six Feet Under Records (US) and Reality Records (Europe).
The Mongoloids links: Facebook|Twitter|Tumblr
Words by Aaron Lohan (@ooran_loohan)