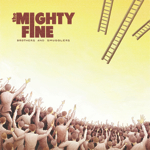 There's something about pop punk that is indelibly linked with summertime in my head (and lets be honest, plenty of others). Whether it's The Ataris' cover of the Don Henley Classic, 'Boys of Summer' or blink-182 or hell, even Hot Water Music who defines your summer classic, we can all agree there's something about simple pop and vocal harmonies that you can have singsongs to that get us going. The Mighty Fine should probably be in your list of bands to check out then. They have a lot in common sonically with The Ataris (which is nice as they're currently supporting on the latters US tour) as well as an ethos that sounds like a mix of Drive-Thru and Epitaph bands like Homegrown or Millencolin musically. Essentially, there's a wide spectrum of punk rock influence evident here on their third full length 'Brothers And Smugglers', and they're keen to showcase their songwriting.
'Daphne', my favourite song on the record, grabs at you instantly and reminds me of the lyrical tone of bands like Midtown with its positive edge, while the hook-laden guitars and galloping drums have that essential hook to induce fist pumps and sing-a-longs. There's a lot of positive vibes here, with tracks which sound downbeat instrumentally having an underlying positive layer. The husky vocals of Brook Thompson are smoother than the sandpaper gruff-ness of slightly heavier bands like Hot Water Music that they seem to be trying to emulate in tracks like 'Trade Business', but this works with their sweeter backing vocal harmonies, and ability to generate a good guitar hook. The result is polished and radio-ready, maybe a little bit diluted, but songs like 'Who's to Know' still manage to pack a punch in the guitar riffs.
In opener 'Into the Clouds', there's a strong sense of what 'Brothers and Smugglers' is all about; the stories of friendships strengthened over time, changes in life and getting through the days. Its got strong riffs, and there's enough to sing along to in that chorus. It's sunshine-laden and there are more hooks than an angling shop. Everything about this is made for warm weather, denim shorts and beers on the banks of the river, but I'm just left feeling a little cold at the end of it. It's a little bit like an Indian summer; there's warmth there, but it feels a little hollow. I enjoyed a lot of the tracks mentioned above, but I didn't feel like there was much chance I'd go back to them later. That's the shame with my interest in this poppy punk, sometimes it's as transient as a warm, sunny day.
3.5/5
'Brothers and Smugglers' by The Mighty Fine is out now on Creator-Destructor Records.
The Mighty Fine links: Website|Facebook |Twitter
Words by Heather Robertson (@thecuriosity)