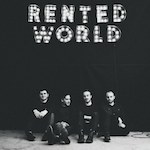 It can never be easy for a band to follow-up a record as acclaimed and admired as 'On the Impossible Past', but that's the position The Menzingers find themselves in with 'Rented World'. It's unreasonable to set such high expectations but unfortunately for the PA quartet, that's what fans were left with when 'Rented World' was announced.
So with so much expectation, how does 'Rented World' shape up? Well for starters it's not as immediate as its predecessor. I'll even go as far as labelling it as underwhelming on the first handful of listens. However, the band's brand of down to earth punk is something that gives the record longevity. 'I Don't Wanna Be An Asshole Anymore' is a welcoming opener that will please longtime fans; a vibrant, boisterous number that captures just what The Menzingers are all about.
Lyrically the band take on the theme of being in your mid-late 20's and becoming wiser with age. Early tracks like 'Rodent' and 'Where Your Heartache Exists' have a sense of open-mindness and are thoroughly honest.
'Transient Love' has a dreamy, yearning feel that somewhat sees the band enter a more laid back style. Yet it's one of the most compelling numbers on 'Rented World'.
With all this talk of growing older and being more laid back, you may have the impression that 'Rented World' isn't as "punk" as you may had hoped. However, songs like 'The Talk' and 'Hearts Unknown' are thoroughly "punk" at the core. Whilst 'Nothing Feels Good Anymore' has a slow, resonating build that pays off with a thunderous, rewarding chorus that is anthemic.
Recent single 'In Remission' is another number that perfectly captures what The Menzingers are all about. It wears its heart on its sleeve, yet it's self-deprecating and considerate.
The record closes with the Dylan-esque 'When You Died', a trembling, sombre track with Greg Barnett's trembling vocals and simple acoustic guitar providing a weighty conclusion. Like the rest of 'Rented World', it takes on the subject of facing up to reality and growing old; "Where do people go when they die? How do you keep them alive? How do we make sure that something like this doesn't ever happen again?".
'Rented World' isn't 'On the Impossible Past' part II, and it was never intended to be. Instead we're given a record that showcases the band's lyrical growth. It's a wiser, more thoughtful record, that requires dedication and patience for you to get a true understanding of it. The Menzingers' continued combination of introspective words and punk-infused melodies is once a rewarding factor.
As The Menzingers continue to grow older, I look forward to joining them on their ongoing trials of introspective confusion and struggles, as they continue to show their light at the end of the tunnel, and that light is musical satisfaction.
4/5
'Rented World' by The Menzingers is out now on Epitaph Records.
The Menzingers links: Website|Facebook|Twitter|Tumblr
Words by Sean Reid (@SeanReid86)