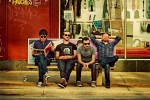 If there is one thing Philadelphia's The Menzingers know about, it's writing honest punk rock songs and their Epitaph debut; 'On The Impossible Past'is no different. It's a record that is filled with self-reflective lyrics and nostalgia delivered with an Americana tone. 
From the opening moments of 'Good Things,' Tom May declares "I've bee having a horrible time, pulling myself together" and with that you're hooked by the bands intriguing and engaging lyrics. Whilst the bands bold punk rock energy shines through from the start. It's this energy that gives 'On The Impossible Past' consistency.
From the plucky 'Burn After Writing' to the rousing cries of "I will fuck this up" on 'The Obituaries' to the introspective, laid back approach on 'Sculptors And Vandals,' the bands relentless confidence and energy remains intact. 
Another an apprecative attribute of this record, is that the Scranton-based quartet aren't afraid to slow down the tempo and try something different. 'Ava House' is a pumping, roaring, Against Me!-like punk rock number with burst guitars and soaring, raw vocals, whilst 'Gates' is more steady, with pleasing guitars compliments Gregg Barnett's vocals. 
The title track itself is an intriguing affair, light, laid back guitars softly drift along serving as a background to Barnett's nostalgic tale of "having nice things" before bursting into life with well-paced drums and striking guitars making the track (slightly) echoing The Gaslight Anthem.
Even though there are moments where it seems like The Menzingers lack their own identiy; throughout comparisons can be made to the likes of Alkaline Trio, Weezer, The Swellers, and The Pixies, The Menzingers certainly make their mark and form their own identity.
With a new label and a well-rounded, consistent record in 'On The Impossible Past,' The Menzingers have delivered an apprecitve collection of warming, passionate songs that quickly draw your attention and are guaranteed to played over and over again in the coming months. An early contender for album of the year.
5/5
'On The Impossible Past' by The Menzingers is available now on Epitaph Records
The Menzingers links: Facebook|Twitter|Tumblr
Words by Sean Reid