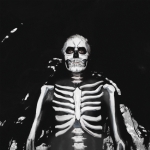 The Maine is back and fans can now get their hands on 'Forever Halloween' the band's fourth studio album. The rock outfit begin in what appears to be an optimistic fashion: 'Take What You Can Carry' introduces the record with a strong, catchy up tempo beat; focusing on the band's soft rock elements, with distinctively soft vocals foregrounding the calm yet characteristic backbone of the track. The sing-a-long choruses, which are a key feature in the majority of the tracks boast bouncy rhythms, yet this optimistic vibe is contrasted with the lyrically pessimistic side of the band.
This rhythmically positive and lyrically negative contrast soon progresses into a down tempo section of the record, with 'Birthday In Los Angeles' focusing on a slower, more evidently emotional side of the band. The same could be said for the piano led 'These Four Words' which is a beautifully crafted track yet explores heartache and pain of a breakup with the lyrics;"These four words don't come easy, I don't love you." (Probably best not to listen to this one if you're going through a breakup.)
'Forever Halloween' is an easy listening record and if you're feeling bitter about something in life, the chances are this record is one you'll relate to. Despite the fact that the record is easy on the ears, The Maine's pessimism does weigh down 'Forever Halloween', but hey, it's healthy to express your feelings good or bad, so check it out for yourself and see what you think!
4/5
'Forever Halloween' by The Maine is out now via Rude Records.
The Maine links: Facebook|Twitter|Website
Words by Hannah Gillicker (@HannahGillicker)