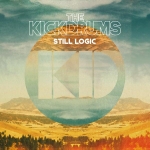 Blending alt-rock and hip hop might seem a bit over zealous when it comes to that increasing need to mix genres that artists have these days, but not when you've been doing it for as long as Alex Fitts; singer, songwriter and producer of Brooklyn, NY's The KickDrums. Although well known amongst the blog elite for the release of their previous genre-crossing mixtapes (most notably 2012's 'Follow The Leader'), their new EP 'Still Logic', which is being released through Hopeless Records, is mine and more than likely your first impression of the band and I personally don't think it could be much better.
It might only include three tracks but it grabs your attention right from the off with the opener 'Atonement' being the pick of the bunch. Its hip-hop influenced production accompanied with Alex Fitts' mesmerizing vocals perfectly showcase everything the band are clearly setting out to do with this record all in just the opening song. As we move on to 'Fake Guns', the quality of 'Atonement' is at least matched and while the instrumental is less electronic sounding than the opening track, it still presents a catchy hook and beautiful, more natural sounding blend of drums, synths and guitars. A great example of the variety-in-sound that The KickDrums are obviously aiming to offer. The EP's closer 'Thinking Out Loud' blends the elements shown in the first two tracks, giving the listener a heavily electronic based, catchy and up-beat track that is once again built upon amazingly detailed production.
I do, however, feel that both EP as a whole and 'Thinking Out Loud' in particular end far too abruptly. Even taking into account that 'Thinking Out Loud' totals at over 3 and a half minutes – a perfectly acceptable length for a song – it feels like I've only heard half of a track. When the final sequence of strings and synths hit towards the end I feel like I'm being lead into, at the very least,  one last huge-sounding chorus when in fact all we're is lead into is a fade-out to finish off the EP.
It's important to note, though, that the sheer quality and originality of the existing tracks more than make up for the feeling of being short-changed with the ending of 'Thinking Out Loud'. To not only have the idea to make this kind of record, but to also execute it this well is something that should definitely be applauded and when the worst thing about your EP is that their isn't more songs on it, I don't think you're doing too bad at all.  I highly recommend giving this EP a listen.
4.5/5
'Still Logic' by The KickDrums is out now on Hopeless Records.
The Kickdrums links: Website|Facebook|Twitter
Words by Joe Hart (@nottheJoeHart)