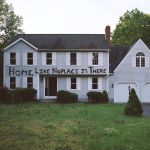 Few records tick all the boxes, which makes it all the nicer when you hear one that hits a winning streak across the board. The Hotelier's 'Home, Like No Place is There' pretty much does just that, with very little left out. The Massachusetts four-piece's second full length album is a varied mix of indie, punk and emo that consistently delivers in instrumentation without ever skimping on lyrical content or sentiment.
The 37 minutes of music on display here, contained in nine tracks, span an impressive range of styles of alternative music – from slow, Death Cab style alt-rock to sharp-edged post-hardcore, each transitioned into without any sense of awkwardness. All of this is accomplished by the versatile skills of each member of the band, particularly in the guitar and vocal department. The dirty, but not overly distorted guitar parts seem to fit each style as well as the last and give every song a crisp edge. Add this to the generally reverb-soaked and spacious production, and the album manages to sound big but not overly grandiose.
Where the instrumentation provides the solid groundwork to the album, vocalist Christian Holden really pushes the album to grab you. His distinctive vocals can at first be off-putting in their tone, but when they settle into the album, they give the release its personality. Whether subtly sung, passionately belted or painfully shouted, Holden retains the feeling of being jaded and discontent.
Home, Like Noplace Is There by The Hotelier
Not only in terms of vocal performance does Holden impress – the lyrics add extra colour to an already strong palette. They are at times catchy and often subtly political (such as in 'Life in Drag' or 'Housebroken'), but always sound heartfelt and honest. In particular, 'Your Deep Rest' has a chorus that resonates and sticks in the listener's head, and if you're anything like me you'll probably still be singing along to it while listening to completely different music – this is partly because of the melody and partly because of the poignancy of the line "I called in sick for your funeral."
The only real complaint that can be made about this album is that the rhythm section doesn't find a strong voice at any point: neither bass nor drums shine in their performance and it leaves them sidelined somewhat. That said, nothing in their performances are bad by any stretch – they're strong but they fail to dazzle in the same way that the vocals or guitar parts do.
As far as 2014 goes, 'Home, Like No Place is There' is already a shaping up to be a contender for album of the year. It's certainly the best thing I've heard so far, at least. With a strong sense of cohesion in the songwriting, despite a variety of styles being used, and a particularly strong vocal performance throughout, there really aren't any drawbacks to be found. If this doesn't make a few top 10 lists, then we'll have had a very good year for music all round.
4.5/5
'Home, Like No Place is There' by The Hotelier is out now on Tiny Engines.
The Hotelier links: Bandcamp|Facebook|Twitter|Tumblr
Words by Ben Kosma (@BenKosma)