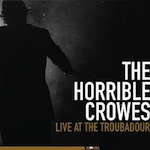 When live albums bring something different to the table, they stand out from the crowd; like when Kurt Cobain bared his soul with an acoustic guitar, or when Metallica performed with an orchestra. Mostly though, they're great for the superfans, but for the most part, a poor substitute for actually being present at the performance. This offering from The Horrible Crowes is quite uniquely pointless, even for the canon of live albums – the band have only ever put out one record, so this is 'Elsie' performed in its entirety (plus a couple of covers), but with extra whooping & hollering and Brian Fallon's awkward between-song banter. No disrespect to Fallon and his cohorts, but this hardly sounds like 'No Sleep 'til Hammersmith', does it?
The source material itself is very good indeed – Fallon and Gaslight Anthem guitar-tech Ian Perkins made an excellent record with 'Elsie' (aka The Album Where Fallon Doesn't Jock On Springsteen Quite So Much), and if you haven't heard it yet, it's well worth a listen – Fallon channels the likes of Tom Waits, The Afghan Whigs and Nick Cave on the album, but one of the predominate strengths of the album is its sense of instant intimacy, spoiled here by sharing the songs with 400 others in LA's Troubadour venue. The performance was captured as this was a rarer-than-rocking-horse-shit outing for the group, representing 50% of their total concerts to date, and it feels a little like the band are saying "We don't have the time or the opportunity to go out on the road, so here's an expensively packaged boxset so you can be extra jealous of those that actually did see us".
As mentioned above, The Horrible Crowes do slip a little extra in – there are covers of Katy Perry's Teenage Dream, INXS' 'Never Tear Us Apart' and 'Ladykiller' is augmented by a section of The Cure's 'Pictures Of You', but although performed very well, they don't add enough to dissuade the feeling that the fans are being slightly suckered into purchasing 'Elsie' again. SideOneDummy aren't really at fault here – a modestly-sized label should be able to spin money from their biggest cash cow, and cashing in on a record that was warmly embraced by fans and critics alike is perfectly reasonable, but this record represents poor value for money, a facet of the music industry that caused people to pirate the records and go to the shows instead in the first place. In an age when live albums/videos are becoming obsolete thanks to YouTube (the properly filmed stuff, not just shaky camera phone footage), this record holds a Horrible Crowes/Gaslight Anthem fanatic to ransom a little due to the limited nature of their gigs, and is a paltry substitute for partaking in the atmosphere of the night.
As for the DVD of the performance – if you've ever wanted to see Fallon suited, booted and hirsute (cue en masse swooning), here's your opportunity – though I wouldn't doubt there's already a Tumblr blog dedicated to fusing his doe-eyed good looks to sartorial elegance. A listen of 'Elsie' is highly recommended, so don't mistake this for a comment on the quality of the record – however, this live album does little to enhance its merit and is a fairly perfunctory and cynical move. Save the cash you might have spent on this and invest instead in some of the forebears that have influenced this band – a much better use of your time and money than this meaningless release.
3/5
'Live At The Troubadour' by The Horrible Crowes is available now on SideOneDummy.
The Horrible Crows link: Website|Facebook|Twitter
Words by Ollie Connors (@olliexcore)