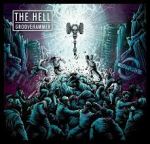 Here's a simple three sentence introduction to The Hell. They play loud, fast and brutal hardcore. They don't take themselves very seriously. They are from Watford. By now you're either still interested or you're running for the hills, leaving explicit instructions not to be contacted again until this review is archived and replaced with something a little more intellectually stimulating.
For those of you still reading, you're the winners, because 'Groovehammer' is the most fun your stereo has had in a long time. If anyone out there still remembers DC outfit Good Clean Fun, these guys are cut from the same cloth – they harness the speed, guts and in your face attitude of hardcore and very much leave out the prejudice, egoism and segregation that also blights certain aspects of the genre.
Duel lead vocalists are usually a massive no-no for me with few good examples of the practise working, but The Hell pull it off with aplomb, one giving it the full-on throat stripping rage and the other cleaner, sharper but every bit as fierce. The guitars are metal-edged with a healthy dose of thrash worship along the lines of their party-core cousins Municiple Waste.
As the album kicks off with 'Take Me Out', you can hear how The Hell walk the line perfectly between aggression and just having a laugh. The sentiment is pretty much "get a load of this!" with a big punishing riff thrown in for good measure, but at the same time their sound has got such a catchy groove and bounce to it and you find yourself with a big fat smile on your face rather than a sneer. It's not nice and posi like The Steal or Kid Dynamite – these boys ARE nasty –but their tongues are firmly in their cheeks.
'Everybody Dies' pretty much sums up the band's outlook. "We don't give a fuck cos everybody fucking dies, might as well fuck shit up while we're alive cos everybody dies everybody fucking dies!" It's probably worth mentioning now that if you have an adversity towards swearing then you should probably give 'Groovehammer' a wide berth as it's lyrical content could make a sailor blush. For those of us not seeking to be offended it's just part of the silliness that makes The Hell who they are.
'We Love Dicks' is genuinely about how much they love big, swinging penises and don't you forget it. It is the perfect example of how they have no interest whatsoever in the macho, alpha male nonsense that way too many people so inaccurately associate with hardcore. There's something massively refreshing about hearing the lyrics, "Call us fucking gay mate, I'm over it, you cunts inspire these hits, it's The motherfuckin' Hell and we love dicks!"
'Speed Shit Up 2' is really, really fast and proof of how tight the band are and the fact they can most certainly play their instruments.  The album comes to an end with the delightfully titled 'I'll Snap Your Fucking Head Clean Off' which is actually mostly about chocolate bars. I can't wait to see these guys live and watch the crowd gang-chanting some of these lyrics – it's going to be a wonderful and hilarious experience.
Everyone who loves hardcore for the right reasons knows that it's all about jumping around like a nutter and letting off steam – about expressing anger and not violence. And most importantly it's about having a brilliant time doing all of this. The Hell understand and used it as a basis for 'Groovehammer'. It's not going to expand your mind, but if you feel like you can party hard enough then make this your next purchase.
4/5
'Groovehammer' by The Hell is out now on Prosthetic Records.
The Hell links: Facebook|Bandcamp|Twitter
Words by Alex Phelan (@listen_to_alex)