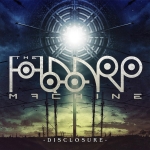 Progressive heavy metal rockers The HAARP Machine have released their début album 'Disclosure,' employing a wide variety of foreign instruments (think sitar and gongs) with the heavily employed double bass pedal and chugging guitars. A seemingly interesting mix, The HAARP Machine attempts to bring something new to the heavy metal world.
The album begins with 'Esoteric Agenda,' a track that essentially lays out the trajectory of the album. Included is the typical sound you might expect from progressive metal, but with ethnic instruments and melodic singing, which potentially add an interesting twist.
Before you think I'm crazy, I know heavy metal is supposed to be loud, and believe me, I like it loud, but something seems to have gone wrong with the mixing on this album. The vocals are often difficult to hear, and the new, fresh instruments not typically found in this style of music are all but wasted. Drowning out the considerable talent of the lead guitar, vocalists, and various other elements of this band is the constant chugging of guitars and pounding of drums that is a heavy-handed attempt to retain the heavy metal sound fans may expect.
Many of the songs on 'Disclosure' fall into a similar sound of monotony. 'Pleiadian Keys' and 'The Escapist Notion,'for example, take about half the song to actually do something interesting. By that time, it may be too late and the listener may have already skipped to the next track.
This isn't to say that there are no interesting moments on 'Disclosure.' 'From Vanity to Utility' has several moments of intense, multi-layered sound with many instruments blended together. 'Disclosure'succeeds in integrating the foreign sounds into the song, with a solid melody and complex arrangements. In reality, each track has something noteworthy buried in the middle or tacked on the end, redeeming much of the album and keeping it from being a run of the mill release.
The HAARP Machinehas come on to the scene kicking and screaming. Signing to Sumerian Records will help to launch them into the spotlight, but 'Disclosure' seems rushed and poorly thought out. While the band has true talent with shining moments sprinkled throughout the album, it takes time to listen and pick those moments out. The use of new instruments shows they are forward thinking and creative, but they haven't quite mastered the restraint needed to make their unique sound audible to a wider audience.
2/5
'Disclosure' by The HAARP Machine is available now on Sumerian Records.
The HAARP Machine links: Facebook|Twitter
Words by Jenny Gagas.