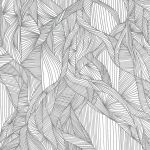 Opening with a two-minute wordless intro is a bold move for any four-track EP, but it works for 'The Roots', setting the dreamy tone for the record. Opener 'The Egg That Hatched' is ambient and interesting, its instrumental style recalling some of Into It. Over It.'s latest album.
'The Roots' is not quite an EP; it sounds more like one long song divided into four parts. All of the songs are similar sounding and while this can be slightly dull in parts, it gives the release a distinctive flow as its ebbs and moves in between tracks.
Instrumentation takes over from lyrics, though the more vocal heavy tracks, such as 'Roots', provide a sense of exploration and travel and the heartache caused by those left behind. The repetition of "why am I so far away from the one I love?" in 'Roots' contrasts nicely with the imploring tone of 'Righteous Man' which begs, "Can you be my strength when I get weak?, Can you be my lungs when I can't breathe?". 'Righteous Man' is undoubtedly the standout track of the short release, benefiting from simple, catchy chords that carry the song along. While The Great Albatross introduce these lyrical themes well, the short nature of 'The Roots' doesn't allow enough time for these ideas to develop, and they get lost amidst the pretty instrumentation.  It would be interesting to see how a whole album would have built upon this.
'The Roots' is worth a listen for the interesting instrumentation alone.  While synths have clearly been used, these aren't too heavy handed and certainly do not detract from the acoustic strings that dominate the EP. There are also unusual instruments featured which are hard to identify, adding to the surreal quality of 'The Roots'.
Rambling and dreamy, yet ultimately leading nowhere, 'The Roots' is light-hearted and yet heartfelt, thought it could have benefitted from a few more tracks to give the EP a more complete feel.
3/5
'The Roots' by The Great Albatross is out now via Count Your Lucky Stars.
The Great Albatross: Facebook|Tumblr|Twitter
Words by Jay Sullivan