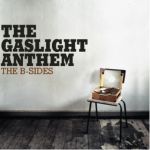 My first feeling when 'The B-Sides' popped into my inbox was excitement. I love The Gaslight Anthem, I've seen every show they've played since 2008 and they're probably one of my favourite bands. It was a sure fire bet that I was going to love this.
However a quick glance at the track list soon changed my mind. Firstly, this is a collection of B-Sides from 2008-2011. Why? This means there's no early rarities of demos on here, and the B-Sides of the 2012 'Here Comes Your Man' single (such as the brilliant 'Misery', and a beautiful cover of 'Skinny Love') aren't featured. Fair enough I guess, but the strangest thing is the tracks which they have chosen to include.
'The B-Sides' consist of some covers, a few acoustic versions, a live track and 'She Loves You', which was on the extended and iTunes UK releases of 'American Slang'. Disappointingly as well, none of the live tracks are from the moment when Bruce Springsteen played with The Gaslight Anthem, a moment which many fans would have liked to have seen here.
Sadly, what is included isn't that enticing either. The majority of the acoustic versions are dull and add little to the existing songs, (apart from a few extra Mary's thrown into 'Great Expectations'). The exception to this is the acoustic re-work of 'Boxer' a beautifully emotive version which features some great, construction-like sound effects, giving the track a charming retro feel. It's almost worth getting 'The B-Sides' on the strength of this alone.
The only live track is a cover of 'State of Love and Trust', which while good enough doesn't really have any urgent need to be live. The rest of the covers are average, with an upbeat cover of 'Tumbling Dice' and a bluesy 'Once Upon a Time' being the best of the bunch.
Overall, while this isn't a bad release, it's certainly not necessary. With weird track choices and glaring omissions, this is only an essential for die-hard Gaslight Anthem collectors. I enjoyed what was there, but I'd be hard pressed to justify its release.
2.5/5
'The B-Sides' by The Gaslight Anthem is out now on SideOneDummy Records.
The Gaslight Anthem links: Website|Facebook|Twitter|Tumblr
Words by Jay Sullivan.