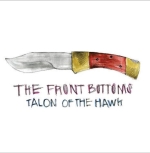 If you haven't already listened to The Front Bottoms, then no doubt you would have heard about them somewhere. They created a buzz with debut LP 'The Front Bottoms' and are now back with new record 'Talon Of The Hawk', to hopefully create an even bigger one.
It's fair to say that the band have a massive online presence; it's genuinely hard to miss someone mentioning them, especially on blogging websites like Tumblr. And although, as with any band with a significant amount of hype, it could be somewhat arguable as to whether they actually live up to the "talk"; it becomes clear that when you listen to The Front Bottoms for the first time, it is increasingly hard to not fall in love with their folk punk/pop sound.
The band have made a few appearances to the UK now, perhaps most notably supporting The Menzingers and as well as this past April, they embarked on their own headline tour. As they sell out venues such as the Barfly in Camden, it's pretty obvious The Front Bottoms are intent on leaving their mark over here.  With the new album comes a new change for them; up until recently the band identified as a two piece, gearing up help from a friend when it came to live shows. More recently however, they have decided to function as a full band, bringing in two more members; this almost certainly shows that they weren't prepared to gain this much attention but are now more fully prepared to deal with it.
'Talon Of The Hawk' is a great sophomore effort from the band; it maintains those deep and personal lyrics that made the first album so relatable and on first listen to it you can immediately pick up on this again. One of the reasons why The Front Bottoms are such a great band to listen to is because you find yourself immersed in their lyrics; these are only emphasised by the impressively catchy music that makes you want to dance and sing ridiculously loud at the same time. Although musically, it isn't a far cry from the self-titled, it does sound a lot more mature, and alone, it's just interesting to delve into vocalist Brian's personal lyrics. It's extremely hard to pick an outstanding track on this album; they're all so upbeat and catchy, it's impossible to not love them all equally. However, I found myself connecting to 'Skeleton' and 'Twin Size Mattress' the most.
Every person who listens to this album is going to take something different from it lyrically, whilst for most people we can collectively agree that it will be hard to turn this album off when the sun is out.
4/5
'Talon Of The Hawk' by The Front Bottoms is out now on Bar/None Records.
The Front Bottoms links: Facebook|Twitter
Words by Sarah Russel (@sarahbydesign)