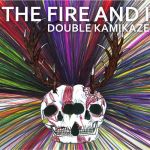 These days, a comparison of a Scottish band with downtuned grungey riffs and an adventurous sense of dynamics to Biffy Clyro is just as tiresome a lazy journalism cliché as it is to compare a melodious pop-punk band with a female at the helm to Paramore, however The Fire And I's sound does hold a lot of kinship with their compatriots; a halfway house between Biffy and the scuzzy, raucous chaos of Pulled Apart By Horses, alongside no small amount of influence from a band that shaped The Biff, Nirvana. The Fire And I are a duo, comprising of Gordon Love and Hooligan Sadikson (NB: may not be real names) and 'Double Kamikaze' constitutes their second full-length release, following on from 2010's 'Stampede Finale'. Right from the growling bassline that opens the record on 'Devil's Damned Thoughts' it sets the stage for a wild ride; however, it's one with more bumps than one might anticipate.
The record's eponymous track follows on from the aforementioned intro track and boasts a far bigger riff for the refrain than a bass guitar should have any right to produce, and gets the record off to a good start despite the yelped backing vocals, straight out of the book of Alex Pennie in his days in The Automatic, doing their level best to spoil the onslaught. 'Ruined Graffiti' brings Love's vocal talent to the fore, with his powerful singing ticking all the right boxes, before ploughing into a monolithic breakdown near the end. However, after an encouraging start, 'Coming Loose' feels less like a square peg shoved into a round hole and more like a WWE fan at a Mensa meeting, sounding like a mix between The Cure and 'There Is Nothing Left To Lose'-era Foo Fighters. It's a perfectly pleasant song, but sticks out like a sore thumb amongst its more riotous forebears.
After departing on quite a radical tangent, TF&I return to more familiar climes, settling into a groove that serves them well for the remainder of the 14 tracks on 'Double Kamikaze'. Many interlude tracks embellish this record's song total, and to the credit of TF&I, though proceedings do become familiar towards the latter part of the album, it rarely feels tiresome predominately due to the excellent command the duo hold over the limited resources at hand; the two have emerged from the shedding of two members all the stronger for it. 'High Flyer Suicide' is nagging and insistent throughout, and while in some hands the material would be aching for a rollicking guitar riff, Love uses his four-stringer to the full extent of its capabilities. 'Strobe'sounds like an 'Infinity Land' B-side, but The Fire And I manage to style it out with more credit than sheer aping should probably grant them.
Like 'Ruined Graffiti' before it, 'Full Effect Intake' is a strong showcase for Love's voice, an unexpected falsetto providing a pleasant surprise during its discourse. It also sets up a strong finishing run for the record, from the while-they-were-still-good QOTSA-isms of 'Bitten', to the closing 'Washing Away' proving that mainstream-friendly rock can still contain a bit of bite and edge. While the production of 'Double Kamikaze' can leave a lot to be desired, The Fire And I have built well on the plaudits that their first album and live reputation have garnered. It fails to move completely out of the shadow of its influences, but the Scots can be proud of this effort.
3.5/5
'Double Kamikaze' by The Fire and I is out now on CarCrash Records.
The Fire and I links: Facebook|Website|Twitter
Words by Ollie Connors (@olliexcore)