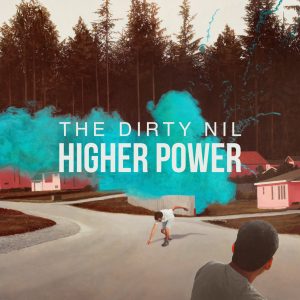 In a scene full of genres and sub-genres, occasionally an album comes along that delivers rock in its purest form. With their debut full-length 'Higher Power,' Canadian trio The Dirty Nil do just that. Over the course of 27 minutes, they deliver an enthralling set of raw rock 'n' roll songs that don't dwell on complicated matters. The rousing 'No Weaknesses' sets the tone early on with its ferocious approach; sonically distorted and subtly intense.
From start to finish, 'Higher Power' demands to be played loud as The Dirty Nil have delivered an almighty ruckus of a record. 'Zombie Eyed' and rumbles away with squeaking guitars. 'Lowlives' is equally thrilling with its unrelenting energy, a Cobain-esque impassioned vocal release, and fuzzed up bass line.
Likewise 'Wrestle Yü to Husker Dü' comes off as sludgy and dense, with Luke Bentham's words supplying a slacker anthem of "I don't care, fuck him."
'Friends In the Sky' highlights their pop sensibilities complimenting its garage rock vibe, whereas 'Violent Hands' and 'Bruto Bloody Bruto' sum up what The Dirty Nil are all about; ferocious and scrappy yet embraces a vintage rock tone. Likewise, 'Fugue State' provides a blistering 45 seconds with Bentham's yelping and shaking bass line.
'Know Your Rodent' is a more spacious effort settling into a slacker-like skin before erupting in the chorus with stark power chords. 'Helium Dreamer' explodes with bombastic drums and twisting tempo. Closing track 'Bury Me At The Rodeo' ties things up with its self-reflective tone and steady tempo.
'Higher Power' is delivered with intent and musical honesty. The Dirty Nil refuse to confine themselves to a style or sound, instead forming a head-first approach. The end result is a satisfying rough and ready album that thrives off big guitars, venomous vocals and a thunderous rhythm section. Play it loud and then some.
4.5/5
'Higher Power' by The Dirty Nil is out now on Dine Alone Records.
The Dirty Nil links: Facebook | Twitter | Tumblr | Bandcamp
Words by Sêan Reid (@SeanReid86)