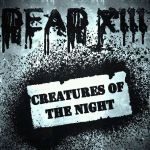 I've never really been one that has understood the whole horror-punk genre. Even some parts of the Misfits just go completely over my head. I think the only band that I have ever seen pull it off this mix of Horror and Punk are Send More Paramedics. So on first listen to The Dead XIII's new EP 'Creatures of The Night', I didn't exactly have the highest of expectations going into it.
Unfortunately, after several listens of 'Creatures of The Night', The Dead XIII have not converted me into a fan of this sub-genre. That's not to say the EP does not have its good points. The track 'Monster Rehab' is a stand out of the four tracks on off. Heavy riffs and an almost monstrous scream to accompany the heaviness of the music, but it then goes a bit weird with the odd remix in the middle of the track. Just when The Dead XIII show glimpses of what they can do and how they could turn heads, the opening track 'Stake My Date' is just a bit corny and I think makes the band lose any credibility.
It is great to see bands do something a little different and it is clear that not all heavy music is to everyone's taste. You can see that The Dead XIII have taken influences from bands like Murderdolls, Wednesday 13 and Rob Zombie. Who all in their own right are good bands but are still a bit of a gimmick. It may still be early days for The Dead XIII, but based on what I've heard from 'Creatures of The Night', the gimmick side of things gets a bit lost in translation.
The one great thing that 'Creatures of The Night' does show us is what talented musicians The Dead XIII are, especially the guitarist who provides great riffs and solos from start to finish.
2/5
'Creatures of the Night' by The Dead XIII is out now.
The Dead XIII links: Website|Facebook|Twitter
Words by Tim Birkbeck (@Tim_Birkbeck)