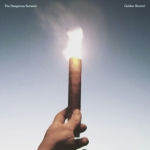 California indie-rockers The Dangerous Summer are finally back with their third full-length album 'Golden Record', one of the most anticipated albums of the year. These guys are currently supporting Cute Is What We Aim For in the USA and are gearing up for their own headline tour beginning at the end of the month. They will be here rocking in the UK in September, so make sure you grab a ticket fast as hilst listening to 'Golden Record', you can picture the outstanding live performance The Dangerous Summer would give; I definitely think it's a show you do NOT want to miss!
The record is of a similar style to their previous album 'War Paint', upbeat pop-punk with rocky riffs and catchy choruses; however 'Golden Record' is more sophisticated, intricate and soulful. The tracks are completely captivating and gripping. This is the record you will play over and over again, even driving yourself completely insane- it's really that addictive!
The album begins with the already released single 'Catholic Girls' which is a smashing introduction as the song begins with a wonderful melody that's ambient with a heavy beat. The song wickedly grabs your attention, and it's a real heart warming track. Whilst you listen, you can imagine The Dangeous Summer playing live with all their fans screaming back the lyrics. It's that kind of hit; show-stopping, moving, and totally enchanting.
The next track 'Sins' follows in the same mesmerising style, the entire track is flawless. The band have certainly stepped-up their game compared to their second studio album. They have left the upbeat punk-pop classics for a more sophisticated rock that is singing sweetly with soul, passion and real emotion. It's truly rare to hear music like this anymore; it's pulsing with a fresh raw energy that keeps you listening.
It's difficult to choose the top tracks, as they really are all amazing; I managed to narrow it down to two: 'Honesty' and 'Miles Apart'. 'Honesty' is a wonderful playful upbeat tune, with a fantastic beginning that blasts out with superb buoyant riffs and drums. The backing vocals, impressively catchy chorus and a magnificent melody really make it a smashing must-listen hit. 'Miles Apart' begins with dominating riffs and more amazing vocals, but the lyrics really stand-out, there truly spectacular: "I'm finally happy, it's finally true, and I'm believing in a miracle, trace emotion to the break of pain, let the world be cynical". It's quite simply an absolutely breathtaking rock track.
The other recommended listens are: 'We Will Wait In The Fog' which is a superb upbeat hit, with playful sound effects and a really super entrancing chorus starring lyrics that every listener can relate to. 'I'm So Pathetic' a heavier rock track with electrifying riffs, raw punchy vocals and authoritative drums. 'Drowning' which is a fantastic influential piece that features a heavy beat and wonderful sweeping melodies. The song has superb deep riffs and a cracking instrumental, but the prevailing vocals really make it that special something.
This long anticipated record has definitely been worth the wait; it's completely incredible. To sum it all up in a sentence: one of the best albums of the year! –If not THE best.
5/5
'Golden Record' by The Dangerous Summer is released on 5th August through Hopeless Records.
The Dangerous Summer links: Website|Facebook|Twitter
Words by Chantelle Kelly (@ChantelleKelly3)