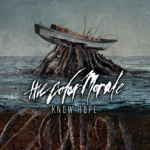 A part of the Rise Records family, post-hardcore quintet The Color Morale makes a bold return with their third full length 'Know Hope.' These guys are reaffirming their mark on the post-hardcore map with this lengthy twelve-track record; and rightly so with some killer offerings born out of the album.
The vocals on this record are pretty outstanding and opener 'Burn Victims' acts as a prime example; with both powerfully sung and ferociously screamed vocals playing off each other the track is full to the brim with character, further reiterated with killer riffs and fierce percussion. This can be said for 'Smoke And Mirrors' and in particular 'Living Breathing Something' which is a bold stand out track on the record.
There's something quite refreshing about The Color Morale's sound and although some of their influences are very evident (particularly in some of the screamed vocal structures which remind me very much of Of Mice & Men) the quartet make their sound their own, focusing a lot more on the melodic elements of post-hardcore as well as the generic chugs and fierce breakdowns.     
'Steadfast' takes a slightly softer approach, steering away from the dominant screams and breakdowns with more focus on calmer melodies and sung vocals on the most part. Although very different to its precedents, 'Steadfast' actually works in The Color Morale's favour and makes a nice change from the heavier offerings the band are better known for.
Despite being a meaty 12 tracks in length, 'Know Hope' doesn't get tiresome and as a sucker for post-hardcore I have to say that The Color Morale have bagged themselves a new fan. If you're a sucker for the genre like me then 'Know Hope' could be your new favourite album.
4/5
'Know Hope' by The Color Morale is out now on Rise Records.
The Color Morale links: Facebook|Twitter
Written by Hannah Gillicker (@HannahGillicker)