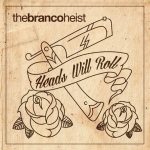 2012 was a busy year for London based three-piece The Branco Heist, for the most part they were up and down the country as well as over seas promoting their brand of rock music. They have seemingly also generated a lot of hype around their sound. With BBC London, Hit the Floor Magazine and a handful of other publications and radio stations giving the band exposure. Towards the end of March they shall release 'Heads Will Roll'; four tracks of atmospheric guitars, sombre vocal lines and subtle tones.
'The Rose' is a bass led mellow opener, the vocals carry well harmonised throughout they are in a sense dry in tone, which is not a bad thing by any means. It is calming almost, the chorus picks up but again it is a subtle change in tone, the bass and guitar entwine around each others riff, its nice but does take a couple of listens to get your head around.
Regarding instrumentation it is nice to hear how prominent the bass is, it is made its own, more than not complimenting the guitar lines, both with their own riffs and lines, in 'Classless Clown' it is no different. Distinguishing itself from the beginning it again follows its own lines only going back to its typical "rhythm section" instrumentation when needed.
'Zombiez' is the most upbeat track on this short release, vocally the verses are ooze flow, stylistically it is more spoken then sung and it sounds great. The chorus is simple, the repetition of "Away, away away" is lyrically basic but it is catchy. My only issue with the track is that it is too short I want to hear more from what is the best track on the EP.
Closing track 'On My Watch' brings back that sombre persona, it is accompanied by an acoustic guitar, delicate drumming and a soft guitar lead. It is the style the band seem most comfortable with. Although the previous track seemed like a great development, this is The Branco Heist mellow, chilled out and soft. It rounds off the EP nicely and is a calming end.
3/5
'Heads Will Roll' by The Branco Heist is released on 25th March.
The Branco Heist links: Official Website|Facebook|Twitter
Words by Robert Maddison.