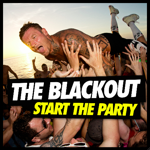 Following recent disturbing allegations concerning Lostprophets' frontman Ian Watkins, Welsh rock has a vacancy right at the top of the tree. Relative elders Funeral For A Friend and Bullet For My Valentine could fill that role, but according to reports FFAF are becoming the band they'd always threatened to be on their latest offering and have become a rip-snorting hardcore act, and BFMV frontman Matt Tuck was last seen fronting something called AxeWound. Therefore, the ball lies firmly in the court of pop-rockers Kids In Glass Houses, and this Merthyr Tydfil six-piece, The Blackout. Despite only bursting onto the scene in 2006, this is already their fourth full-length, and to say they've changed things up would be an understatement of the grossest kind.
Whereas before The Blackout were a pretty average band that could always be relied on for an anthemic, "hands in the air" chorus, this is a different beast altogether. The album title sets an ethos for what lies within; this is rock and roll at full pelt; loud, brash and confrontational. In the vein of big-riffed hair metal bands like Mötley Crüeand Guns 'N Roses, whilst retaining an undercurrent of pop-rock melody, the album sees The Blackout boldly take on a guise tried by many bands (remember when Atreyu, Eighteen Visions and Avenged Sevenfold wanted to be in the 80s?), and actually pull it off. The eponymous track kicks thing off – you can almost see this blasting out of the speakers in the surrounds of broken Smirnoff Ice bottles, cigarette butts trodden into the carpet and furtive adolescent romance – a 'Fight (For Your Right To Party)' for a new generation, with a chorus reminiscent of Bob Sinclair's 'Rock This Party.'
The band seem to have severed all ties with the more mature direction 2011's 'Hope' saw them take in exchange for big dumb fun (with more than a whiff of Gorganzola), and seem to be having the time of their lives doing it. You can just imagine the grins on their faces delivering songs like 'Radio' and (to paraphrase Nirvana) radio-friendly unit shifter 'We Live On', the latter of which sees the dual-attack vocals of Sean Smith and Gavin Butler intertwine excellently on a track that puts one more than a little in the mind of 'Liberation Transmission'-era Lostprophets – they may have strayed from their roots, but have not left them completely.
Unfortunately, after a blinding start, things come to earth with a huge bump around the halfway mark. 'Just Keep Smiling' is just… odd – an 80s M.O.R. (think Journey and Cheap Trick) flavoured mid-paced number that halts the album's juggernaut-esque pace to a snail's crawl. 'You' is as bland a ballad as you're ever likely to hear, with Sean Smith's clean vocals clearly nowhere near capable of carrying the range required to pull off this number, sounding like Hoobastank's Doug Robb with a cold. After this cold turkey of a mid-section, the adrenaline of the initial offerings wear off and this becomes as tiresome as any other The Blackout record. Some signs of life are present in 'Sleep When You're Dead', but are quickly snuffed out by the plodding 'Throw It All Away'.
The album limps home with a cover of LMFAO's 'Sorry For Party Rockin', which may in this case be far more aptly titled 'Sorry For Party Rocking Really Well And Stopping To Play Some Slower Numbers.' Everyone knows a good party mixtape should rise and rise, but the slump around the middle is the point where the police are called and everybody's forced home. Certainly bang this one on to 'Start The Party'; treat the first 5 tracks as an EP and you've got guaranteed bangers to get the atmosphere hitting the roof. However, as the football cliché goes it's a game of two halves, and the Welshmen fail to deliver in the second. Shame really, because if they managed to successfully reinvent themselves as the 21st century go-to party band, I wouldn't have to hear Andrew fucking WK every time I go out…
3/5.
'Start The Party' by The Blackout is out on 21st January 21st on Cooking Vinyl.
The Blackout links: Website|Facebook|Twitter
Words by Ollie Connors (@olliexcore)