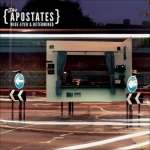 The Apostates are a melodic punk band from London. They play music that at times shows moments of brilliance, but at others reminds me of Frank Turner, a man whose music I truly despise. 'Wide-Eyed & Determined' is released on the bands own label, Wolves Of Suburbia, this December. The Apostates are widely regarded as "one of London's best kept secrets" and their songwriting on 'Wide-Eyed & Determined' begs the question, why aren't they a bigger band?
Opener 'Wide Eyed' is only a minute and a half long but it perfectly sets out the bands intent for the record. It swells and drives forward with urgency, leading swiftly into 'Acrylic Friends', another great song, that really shows the quality of the musicianship and vocals. Its hard to compare The Apostates to anyone, but if I had to try it's part The Cut-Ups and part Great Cynics. 'Wide-Eyed & Determined' is paced brilliantly, it demonstrates the band's attention to songwriting and each song is crafted extremely well, from the instrumentation down to the lyrics.
Stand-out tracks for me include the driving, anthemic 'Sixteen' and 'That's Not Dancing…That's A Seizure!' both of which are great examples of why the band could be huge. Big hooks, catchy melodies and tracks that don't stick around too long and become stale. There are a couple of numbers here I didn't enjoy such as 'The Junkie In Me' which to me feels lacking and strays too close into Frank Turner territory. But that's just my opinion, I'm aware lots of people enjoy what he does. 
Following that though we get a couple of slower songs, 'So Now' which is a refreshing almost country-esque track, especially in the verses, and the acoustic led 'One Ear To The Wall' both of which give a welcome break in the middle of the album. After this, we return to a quicker pace, but still on demonstration is the bands keen attention to melody. 
Overall, 'Wide-Eyed & Determined,' is a great effort from The Apostates. It didn't grab me instantly, but throughout the week I've spent in it's company it has really grown on me. Hopefully the band will gain some exposure from this release and I'll be able to catch them live.
3.5/5
'Wide Eyed And Determined' by The Apostates is released on 10th December on Wolves Of Suburbia Records.
The Apostates links: Facebook|Twitter|Tumblr|Bandcamp|Youtube
Words by Ryan Clayton (@clayton_ryan)