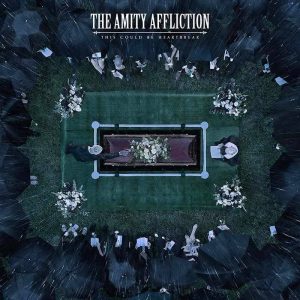 One of the most highly anticipated metalcore releases of this year, The Amity Affliction's fifth studio album 'This Could Be Heartbreak' musically leaves them still very much in their comfort zone. Known for their emotional lyricism, they've stuck with this and the mix of ripping screams and over-sweetened autotuned cleans but there also remains the brutal, personal melodic honesty to their songs which is what continues to attract a large following for the Australian quartet.
We're welcomed into the record by eerie church bells of 'I Bring The Weather With Me', leading to wrenching uncleans and a nice little airy guitar solo towards the end. Next up, title track 'This Could Be Heartbreak' is unapologetically poppy but has a nice groove to the instrumentation which could get a few feet tapping.
'Nightmare' is quite frankly what the title says. Cringey at best, "Are you living in a nightmare? One that eats away your soul?" is sung like some electronic, upbeat creepy lullaby. 'Tearing Me Apart' thankfully redeems itself from the previous track, still cliché as hell but is heartfelt and emotional depth can be heard in both variations of vocals.
Juvenilely titled 'OMGIMY' packs more of a punch with heavier breakdowns and sharp, nifty guitar riffs. Later, 'Wishbone' draws on this heaviness, the clean/unclean balance finally flow together with the crunchy instrumentation and creates a standout metalcore track. 'Blood In My Mouth' pulls the album to a close mixing erratic electronic elements and emotion-filled screams.
'This Could Be Heartbreak' is not consistently exciting or ground-breaking in any way. However, it's not hard to see that hard work has been put into this record whilst both reeling in new fans and catering to the old, giving it their signature sound which sees the Aussie band's following continue to grow and still remain highly sought.
3/5
'This Could Be Heartbreak' by The Amity Affliction is released on August 12th on Roadrunner Records.
The Amity Affliction links: Website | Facebook | Twitter
Words by Phoebe Messenger (@kangaezu_ni)