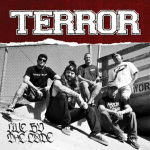 For a band that has been doing the rounds for a decade, Terror certainly aren't slowing down and changing for anyone or anything. The hardcore stalwarts from Los Angeles have accomplished a lot in their time including five albums and non-stop touring across the globe. Despite finishing their latest record 'Live By The Code' last year, the band will finally release it after six months in making sure it was released and promoted on their terms. The result is a hard hitting no nonsense LP stringed with plenty of passion and goodwill for the music and community they stand for.
Musically the band return to their roots; Chad Gilbert's production has managed to capture a good balance between the crystal clear and the raw heaviness. Whilst this may be seen as a step backwards in regards to the little elements that started to appear in the critically acclaimed 'Keepers Of The Faith', Terror deliver well. The music is mosh-hungry and aggressive; coupling brilliantly with Scott Vogel's pissed off yells. The passion that Terror is known for is well and truly alive, regardless of whether or not the music breaks new ground.
Lyrically this passion and drive shows. The themes of 'Live By The Code' are layered with a brash honesty that lets you know that this band is the real deal. Whether it's powering through difficult times ('Cold Truth'), retaliation against mediocrity ('Invasion') or a fight for equality ('One Blood'), there is an underlying positive edge. Even on the negative tone of 'Hard Lessons', such positivity can be seen as an opportunity rather than something missed.
When I first clicked play on this record, I must admit that I didn't feel interested in the slightest; that first listen made me think that this was just your typical average hardcore record. Yet upon further listens, it really does have that power to grow on you. Sure they might not be innovative or breaking new ground five albums into their career, but Terror manage to successfully deliver a simple hard edged sound without slipping. Ten years on they still carry that passion and interest in what they do, and it certainly shows on the inner sleeve of this LP as they lay out what the hardcore community stands for. For what it's worth, if you're a hardcore kid or a massive Terror fan then you will love it, but if you're anything or anyone else, then take your time with it.
3.5/5
'Live by the Code' by Terror is out on the 8th April on Century Media.
Terror links: Website|Facebook|Twitter
Words by Aaron Lohan (@ooran_loohan)