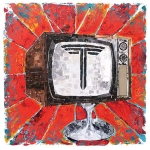 Taking Back Sunday's Fred Mascherino has taken it in his stride to single-handedly produce, record and release his own five track record 'Pre-Transmission' under the name Terrible Things. Despite admirably recording every instrument himself in the process of creating 'Pre-Transmission', Mascherino is also joined by Aaron Van Allen and Steve Curtiss when performing. Knowing his background in Taking Back Sunday, I had envisaged a sound before listening to the record; there are a few rock elements similar to that of Taking Back Sunday, but Mascherino offers a fresh take on this by producing a sound that distinctly defines him from his other musical career.
Opening track 'History' sets promising but unexpected boundaries for Terrible Things with an electronic but grungy opening, kicking into a captivating mid-paced rhythm. The welcoming of steady percussion and fairly distorted vocals, which lead into stronger but soft vocals really affirm the distinct musical style of Terrible Things. The repeated lyric "Those who forget the past, are destined to repeat it" is very apt for the track's title, with a smooth transition into 'Confession.' This second and even shorter introductory offering gives the impression of one longer track when combined with 'History', with calm but infectious rhythms throughout.
Opening with beautiful acoustics is 'Last Look,' featuring Jon Simmons (Balance and Composure.) An admirable chord progression in the first chorus leads into the welcoming of percussion, with an energetic repeat of this exceptionally crafted progression including percussion and bass to boost its momentum. This is definitely the standout track of the record with harsher, emotive vocals featured about two thirds into the song and a strong note held at the end of the track. Ending with 'Hospital', Terrible Things, and in particular Mascherino, has produced a consistently strong record. The continuation of a mid-pace rhythm is still captivating, adding substance and emotion with harsher yet soft vocals to produce a true rock song.
'Pre-Transmission' is a fantastic record. The tracks seem to have this subtle energetic element about them deriving from the combination of infectious guitar and characterised vocals to create a consistent, powerful masterpiece.
4/5
'Pre-Transmission' EP by Terrible Things is available now.
Terrible Things links: Official Website|Facebook|Twitter
Words by Hannah Gillicker (@HannahGillicker)