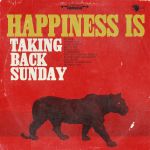 Taking Back Sunday have matured. Not just on this record but since their first offering, 'Tell All Your Friends'. This latest effort is another solid, summer record. After an intro track by way of 'Preface', the band hit their stride and then some. 'Flicker, Fade' is pure Taking Back Sunday once the chorus hits. A big, dramatic sing-along, a soft breakdown and Adam Lazarra'a voice ever toeing the line between oh-so-delicate and brash. 'Stood a Chance' is better still. It wouldn't be fair to say that Taking Back Sunday songs were just choruses and then the rest. That rest is almost always excellent, but hot damn can Taking Back Sunday nail a chorus. 'Stood a Chance' is waiting to be played on a sunny afternoon at a big summer festival. Deserving no less than the biggest stage to do so.
For the rest of 'Happiness Is' the standard continues. On an album that's almost entirely banger after banger, though a slower track like 'All The Way' can drop a little flat. 'Happiness Is' is road trip anthems, built for gunning down the motorway in the sun with the windows down. 'All The Way' is the traffic around Birmingham: expected, manageable, but less fun. For the few dud moments, there's a heap of slick Taking Back Sunday moments, Lazzara's sharp lyrics moving through a landscape of equally emotive musicianship.
'Beat Up Car' is massive. 'Like You Do' and 'We Were Younger Then' are more classic Taking Back Sunday. Gorgeous vocals and beautiful choruses kept apart by smooth verses. 'Better Homes And Gardens' is a track for those who have grown up with the band. A genuine maturity within the sound of your youth rather than a piano ballad played in the name of artistic development. For that, it's the pick of the bunch.
The first time I sat down and played 'Happiness Is' my mind remained intact. A wet fuse somewhere early on had prevented this New York five-pieve from blowing it like they had when I was 13. A couple of listens later and I realize it was me who'd left that fuse out in the rain. I'm in love with the band for the first time in years. Now the album is on repeat and those goliath sing-alongs are just perfect. If I had the time I'd scrap this whole review and get a little mushier.
4.5/5
'Happiness Is' by Taking Back Sunday is out now on Hopeless Records.
Taking Back Sunday links: Website|Facebook|Twitter
Words by Thomas Knott (@thislifeishuge)