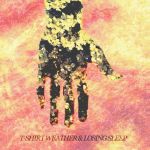 It may have taken me a few listens to get into the 'T-Shirt Weather/Losing Sleep Split EP' but it's well worth persevering with, as eventually it reveals itself to be one of the most charming Indie releases I've heard in a while.
Running at just under 3 -minutes, the split as a whole is the perfect springtime record; light hearted and danceable with the kind of poppy guitars that instantly lift your mood. In all fairness, 'T-Shirt Weather/Losing Sleep Split EP' is exactly what you need to be dragged kicking and screaming out of the introspective dullness of January.
Split w/ Losing Sleep by T-Shirt Weather
The best thing about T-Shirt Weather's offerings for this EP is without a doubt the titles. If you don't illicit a wry smile at 'Hold Me Closer, Whiny Dancer' or 'If on a Winter's Night A Graveler' (A Calvino reference that took me back to the hideousness of reading it at University) then you have no sense of humour.  While it's never a good thing to have better song titles than the songs themselves, it's fortunate these are pretty fun too. I've admitted before that I'm partial to regional accented singing voices, and T-Shirt Weather is no exception,  with the bouncy chorus repetition of "sad, sad, sad" enhanced by their accents.  The refrain at the end of 'If On A Winter's Night A Graveler' is equally fun, and it's tough not to sing along to the repeating "I swear we'll be ok" line.
Split with T-Shirt Weather by Losing Sleep
Losing Sleep's half offers up Indie with a slightly more Emo edge, while still managing to keep things fairly uptempo. '"It's 'Card Sharp" not "Card Shark"' offers wonderfully woeful lines such as "I never claimed to be the king of anything, never even dreamed of it", while still remaining positive in delivery. The best track from them is 'July Inside', an anthem about getting better and hospital beds that gives the split some emotional clout.  It reminds me slightly of Jawbreaker's 'Accident Prone' which is never, ever a bad thing.
Overall, this is by no means a deep record, but it's fluffy and pleasant to listen to, and sometimes, that's all you need.
4/5
'Split EP' by T-Shirt Weather and Losing Sleep is released 10th February on Everything Sucks Music.
T-Shirt Weather links: Tumblr|Facebook|Bandcamp
Losing Sleep links: Bandcamp|Facebook|Tumblr
Words by Jay Sullivan