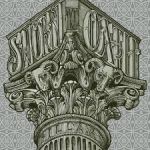 Who knew good things came out of Stoke on Trent? Well apparently judging by 'Pillars', the debut long player from metal trio Sworn To Oath, they do.
The band have actually been around a while, forming in 2009, but have wisely taken the time to hone their sound on the UK underground metal scene before committing to recording a full length album. During this time they've played with some of the best acts in the more melodic spectrum of the British metal scene.
As a result from the second the visceral driving assault of opener 'Outcast' kicks in, 'Pillars' sounds confident, composed and meticulously thought out. The hooks are fantastic and well placed, the choruses are biblically huge and the break downs are sense numbingly brutal.
Getting the balance between melody and brutality right has been the downfall of many a band, however thanks in part to the prowess and versatility of vocalists Tom Shaw and Dave Leese, it's a mix that Sworn To Oath have got pretty much spot on. The conflicting aspects of the band's sound are presented in such a way, that they complement each other and create an attention grabbing juxtaposition, a refreshing change to the cluttered and messy approach used by so many others.
As a statement of intent, 'Pillars' is a huge step in the right direction for Sworn To Oath, the album hits with the presence and accomplishment of a band that have been churning out albums for years, while the range of appeal that the band could tap into could see them become a big name very quickly.
3.5/5
'Pillars' by Sworn To Oath is out now on Transcend Music.
Sworn To Oath links: Website|Facebook|Twitter
Words by Dane Wright (@MrDaneWright)