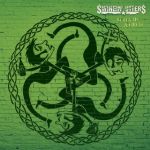 December is always a dreaded month; there's deadlines to meet, enforced 'quality time' with colleagues and family becomes compulsory and everyone has to pretend to like unpalatable drinks like egg nog and sherry for a whole month. So it's fortunate that the Swingin' Utters' were generous enough to release 'Stuck in a Circle', a three-track EP of punk rock goodness. It's the perfect tonic to the shitfest of December.
First track, 'Stuck in a Circle' is a no-fuss slice of punk rock, which does exactly what is says bemoaning the cyclical nature of life as vocalist Johnny Bonnel (who I think sounds a little like a down-tempo Greg Graffin here) delivers smooth vocals over some slick mid-tempo chords.  The chorus picks up the pace a little, and the mix of speeds results in something both catchy and memorable.
Second track, 'I'm Not Your Saviour' is a cut from the Tony Sly tribute album. I've already reviewed it so won't dwell on it here, but it's safe to say it's a good 'un.
Considering both of these tracks have already been released elsewhere ('Stuck in a Circle' featured on their latest album), it's only last track 'Chain Gang Reaction(ary)' that will be of note to dire hard Swingin' Utters aficionados. Luckily it's a banger; I absolutely love the riff that carries the song and the deft rhyming lyrics give the track an appealing pace. While slightly different from their usual sound, this makes for a refreshing change.
Overall this is a perfectly enjoyable EP, and for old and new fans alike there's something to enjoy.  However as only one of these tracks is actually new material, 'Stuck in a Circle' seems like a slightly needless release.  
3/5
'Stuck in a Circle' by Swingin' Utters is out now on Fat Wreck Chords.
Swingin' Utters links: Website|Facebook|Twitter
Words by Jay Sullivan