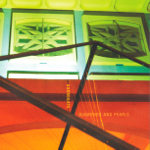 And then there were four. Previously, Surrogate had been but two. In those olden days, the Californian duo wrote two albums of smart folky pop under the wing of Tooth & Nail records. What these two men brought to the table, with both 'Love Is For The Rich' and sophomore album 'Popular Mechanics' were charming songs brimming with heart by way of intelligent songwriting and also a shared love of burritos, it appears. As we wait for the release of their fourth album 'Post-Heroic' in April, we turn our ears to their 2011 independently-released EP 'Diamonds & Pearls'.
Immediately striking is the difference between the leaner instrumentation of the previous albums, an aspect of their style that tended to exert a strong intimacy from the off, and the full-band sound of 'Diamonds & Pearls'. Indeed, the band suddenly have to earn that emotional closeness somewhat in spite of the warm tones and energetic sections, rather than it being a natural extension of their subdued musicianship. And deary me, do they earn it. Led by Christopher Keene's slight voice, echoing both John K. Samson's willowy tones and Yoni Wolf's somber quirkiness, and a knack for moving lyrics, the EP is filled with perfectly-honed indie-folk gems, from mellow country-tinged ballads to dynamic folk-rock romps.
<a href="http://surrogatemusic.bandcamp.com/album/diamonds-and-pearls-ep" data-mce-href="http://surrogatemusic.bandcamp.com/album/diamonds-and-pearls-ep">Diamonds and Pearls EP by Surrogate</a>
'Pearls' adheres to the latter, starting things off with somber keys and background noise before the band crank up the decibels while keeping its moderate pace. A twist is unleashed through a carnivalesque up-tempo chorus that is but the first of many unexpected contortions. In a similar register, 'Old Life' is an frenetic rock n'roll-ercoaster that plays on the irony of the genre being a "young man's game". Refreshingly dark-humoured, 'Old Life' is another fun slice of uncomplicated rock. Completing the energetic portion of the EP, we find 'Diamonds', with its handful of rousing moments, and the show-stealing 'Settle'. Employing a measure of electronic beats, the track triumphantly shifts back and forth between delightful softness and raucous choruses that flirt with a chaotic feel. Great stuff.
Yet rocking out is only half the fun. The other half comes courtesy of lower-tempoed affairs and a flair for genre exploration. 'Can't Go Home' is a sad, alcohol-drenched, tale of heartbreak delivered at a measured, strummed, pace. 'Steal Your Blood' is altogether more upbeat, its love-centric themes revelling in the track's by-the-fireplace undertones. Finally, 'Hope Alaska' is a doleful, and ultimately heart-wrenching, tale of being in a band served with enough measures of sorrow, loneliness, and gospel-tinged keys to drown the perkiest of moods.
'Diamonds & Pearls' repackages Surrogate's heartfelt core with better, fuller, arrangements and introduces a stronger second gear for the band to delve in. The quality in variety on display within the EP is testament to the Chico lads' outstanding songwriting ability, as well as their willingness to explore. Here's to hoping they can match this standard of excellence from here on.
4/5
'Diamonds & Pearls' by Surrogate is out now.
Surrogate links: Website|Facebook|Twitter|Bandcamp
Words by James Berclaz-Lewis (@swissbearclaw)