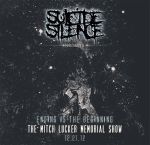 Here we have something very special. Very special indeed. 2 years ago, Suicide Silence's lead singer Mitch Lucker tragically passed away. He had been the band's vocalist for 10 years, since their formation in 2012, and led them through 3 brutal and well received albums. This live album/DVD combo is a tribute to the man, and also a fundraiser to secure his daughter an education, featuring guests from a slew of bands that inspired Suicide Silence as well as past members of the band.
The show is a 70+ minute affair with 20 tracks spanning the 3 albums Suicide Silence have released as well as a few covers thrown in. It pulls no punches, and is brutal from the off, maintaining the intensity that the band have become famous for, as well as a tight and technical rhythm section. The list of featured artists is a who's who of singers from a range of genres and bands, with big name appearances from Lamb of God's Randy Blythe to sing 'You Only Live Once', Machine Heads Robb Flynn who sang an acoustic cover of Black Sabbaths 'Die Young', and Soulfly/Sepultera main man Max Cavelera who took to the stage to sing Sepulteras 'Roots Bloody Roots' with the band. Other contributors include members of Hellyeah, Asking Alexandria, Of Mice & Men, Bury Your Dead, and many more.
It's an incredible release, quite frankly. It sounds great, its powerful, emotional and heartfelt, and serves as a fitting testament to a man and a band who have been integral over the years in inspiring new artists and bands. 'Engine #9', a Deftones cover, is a noteworthy appearance on this album as the band are playing along with a previous recording of Mitch Lucker performing the track.
The DVD of the show that comes with the CD is an amazing accompaniment. All the tracks are available to watch, with a crowd that is bursting with energy and ready to wreck the place. It looks and sounds great, and is well worth picking up the package for. It's also worth noting that all proceeds from the sale of this release will also be going to the Kenadee Lucker Education fund, which aims to put Mitch's daughter through her education as she gets older.
As I said before, very special indeed.
5/5
'The Mitch Lucker Memorial Show (Ending is the Beginning)' by Suicide Silence is released on the 17th March on Century Media.
Suicide Silence link: Facebook|Twitter
Words by Luke Crook (@paisleysoul)