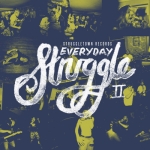 You wouldn't expect anything else, but Glasgow-based punk, hardcore & indie label Struggletown's compilation album 'Everyday Struggle Vol. II' is a mixed bag complete with superb highs, some promising tunes and a couple of missteps (or mis-choices, rather). It might be worth using the handful of bands whose names and music have started cropping up into punk-o-philes' collective consciousness as a starting point before approaching the best of the rest, if you will. 
Fan and critic favourites Joyce Manor deliver 'Bride Of Usher' with characteristic efficiency as they clock their stripped-down, Pixies-meets-Jawbreaker, aerial tune at 2:19 as they preach to the choir. Enjoying a recent bout of hype-building from within the UK, emo two-piece Nai Harvest's 'The Bikes & The Basement' mixes jangly guitars, vocals somewhere between despair and all-consuming elation, and a taste for ruthlessly emotional explosion to great effect. Finally, Last Call, who we've featured previously on Already Heard with a reserved appreciation, provide one of the better tracks of their recent polished pop-punk album 'Dog Years'. Arguably a 100% success rate as far as the staples go, but the meatier part of the compilation concerns lesser-known bands battling it out for the listener's attention as they attempt to demonstrate what they can bring to the table.
<a href="http://struggletownrecords.bandcamp.com/album/everyday-struggle-vol-ii" data-mce-href="http://struggletownrecords.bandcamp.com/album/everyday-struggle-vol-ii">Everyday Struggle Vol. II by Struggletown Records</a>
The deal pays off when bands don't dismiss compilations by providing them with weaker tracks off their respective releases but consider the opportunity a decent chance to rake in some new listeners with a scorching tune. This is the case here with highly-melodic Glasgow outfit Bear Arms with their positively immediate post-hardcore track 'Vultures'. Polished, though perhaps a little too reliant on the poppy side, 'Vultures' is a catchy tune that's hard to dislike. On a darker note, Scottish comrades Cavalcades serve their hardcore/emo with a measure of agony on 'Sleep Debt' to no lesser triumph. On 'Difference', The Sinking Feeling sound like their musical education consisted of a whole lot of Idlewild, which should never be considered a bad thing, especially as they do bring a heavier side as well as an over-earnest approach to lyrics than their alleged influence. Nothing, though, can prepare the listener for the greatness of Shields Up!'s contribution. 'We're Fucked It's Over' is a superb melodic hardcore performance of exciting twists, elegant turns, powerful heaviness and tasteful shifts in dynamics which makes their recent demise (January 6th) that much more affecting. They've won at least one fan on their dying bed. 
There are a couple of good-enough moments peppered here and there, such as !Attention!'s bro-fuelled party-downs, Wolves At Heart's run-of-the-mill pop-punk and No Island's hardcore oddity-of-sorts. The rest, unfortunately, lower the quality bar somewhat, though it should not be understood as a judgment value on the artists' quality but rather that of the contributed track. All in all, Struggletown appear to boast an exciting roster that, while not packed with the biggest names, could definitely field a versatile team of promising bands. Keep an eye out for new music from the likes of Nai Harvest, Bear Arms, Cavalcades, The Sinking Feeling and mourn for Shields Up! 
3.5/5
'Everyday Struggle Vol. II' from Stuggletown Records is available now on Bandcamp.
Struggletown Records links: Official Website|Facebook|Twitter
Words by James Berclaz-Lewis (@swissbearclaw)