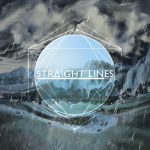 With their first offering since downsizing to a three piece, Welsh rockers Straight Lines have gone a bit stratospheric in scale with new EP 'Reflect'. Over the course of just five tracks, the band have managed to pack in more hooks then a wardrobe full of coat hangers, and elicit a powerhouse vocal performance normally only seen from out and out Stadium ready rockers.
Opener and title track 'Reflect' sets the bar pretty damn high from the get go, with a stirring falsetto driven vocal taking the track skyscraper high, and sounding like a more punked up Muse. 'No Words of Wisdom' kicks things to whole new levels of frenetic energy, grinding chords and immaculately laid down riffs attacking from all sides. Two tracks in one thing is clear, it simply should not be possible for a band of with only three members to create a sound of this size.
The quality rock epicness continues with 'Hole In The Sky' and 'Swim Up River', both showing themselves to be solid tracks, before 'Praise Me Praise You' rounds things off with further ramped up grandeur and scale, and yet another storming falsetto vocal.
There isn't exactly a shortage of big name bands that have broken out of the valleys of South Wales, and at a time when the area's scene is badly in need of a shot in the arm, Straight Lines, with releases of this quality, are capable of providing just that. Put this level of musicianship and song writing into a full length, and their neighbours and compatriots will all be put firmly in the shade.
All in all, 'Reflect' is a fairly astounding offering that marks a new chapter in the band's career and provides a volatile and potent Launchpad for their future prospects. Other bands also need to take note of the sort just to show how good the results can be produced when you fund, record and produce a record.
4/5
'Reflect' by Straight Lines is out now.
Straight Lines links: Website|Facebook|Twitter
Words by Dane Wright (@MrDaneWright)