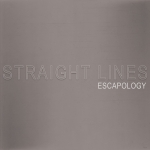 It appears part of the general critical consensus, as well as an opinion shared by this writer, that Straight Lines have been hugely under-appreciated and under-listened by the huge audience of pop-rock amateurs that seem to single-handedly perpetuate the spotlighted roster of magazine-cover bands (my eyes are firmly, and angrily, fixed on the likes of All Time Low here). Yet, when given the opportunity to grab on to a band that actually produce strong, intelligent and persistently hooky pop-rock anthem after anthem, it is an absolute downer that such a band finds themselves forced to earn their place in the spotlight by working hard at maintaining a high standard of quality whilst other less deserving bands manage recognition based on whims of taste, an eye-catching band image or the monetary funding of a mainstream label.
The superb, belter-filled, angular pop-rock of their debut 'Persistence Is The Game' was always going to set the bar excessively high for a follow-up but the Welsh outfit, while arguably never quite achieving the immediate quality and urgency of their first album, successfully succeeded in polishing their sound and fine-tuning their compositions. The result was 'Freaks Like Us,' an array of sophisticated pop-rock songs that better married their brand of insanely hooky pop and the grittier rock sound they display in live shows. With one new song, one track from their previous release, one acoustic rendition of the same release, as well as a live rendition of (YES, YOU'RE READING RIGHT) another song from 'Freaks Like Us', 'Escapology' doesn't immediately look like the sort of half-hearted EP that requires your attention.
New track 'Escapology' sees the band amp their signature concoction with a considerable helping of decibels. The track's arrangements should suggest a familiarity to the band's usual product but also a perfectly-dosed touch of epicness that emerges with the introduction of effected vocals and a short stint of understated guitar work around the 2:20 mark. These might feel like minor changes, but they ever so slightly alter Straight Lines into something that's equally as satisfying as their previous outputs yet conveys a desire to evolve. 'Empty Chest'  was one of the stronger tracks on 'Freaks Like Us', and unsurprisingly doesn't lose in quality when taken out of its album context. "It's been some time since my heart's been in it" sings Thomas Jenkins as yet another triumphant chorus brings this belter home.
The live session of 'Half Gone', another example of the band's consistently great output, doesn't bring much to the EP but it does give a fairly good idea of how their tracks translate live. It doesn't sound as energetic as it might in front of a live crowd, but it is however executed with reserved professionalism. SURPRISE, SURPRISE, the acoustic rendition of 'Freaks Like Us'' catchiest track 'Ring The Bells' 'is a complete success, only made more melodically appealing by soft female harmonies. The brash rousing pop of its original version is substituted for mellow charm and the result will be sure to please.
It's somewhat hard to argue the relevance of this EP's release as far extending their audience reach goes, but I would suggest it unwise for converts to give 'Escapology' a miss. If anything, its title track could be an enlightening taste of what's to come, in which case the critical consensus I referred to earlier is unlikely to waver.
4/5
'Escapology' EP by Straight Lines is available now on Xtra Mile Records.
Straight Lines links: Official Website|Facebook|Twitter
Words by James Berclaz-Lewis