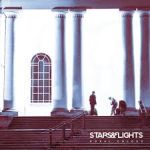 Welsh progressive alt-rockers Stars and Flights work miracles and prepare to turn heads with dazzling new LP 'Moral Colour'.
Ok so work miracles maybe a slight exaggeration, but the trio from South Wales have conquered a pretty mean feat in making a prog-rock edged sound feel relevant, interesting and massively emotive.
In a genre which can too often come off as self-indulegent, soulless and distant, Stars And Flights create powerfully uplifting anthems, whilst still allowing every track to shine with their technical wizardry and finger-tip shredding lightning fast riffs.
In a smart piece of song ordering, the title track is given the chance to open proceedings, and of all the tracks on offer, does the best job of encapsulating the full range of Stars and Flights sound, while also setting the tone and mood brilliantly for what is to follow.
'Tired Nightlife' gives the band chance to show off their ability to change gears within songs, urgent, angular sounding fast paced riffs making way for a mid-tempo singalong ready chorus that see's frontman James Davies get misty eyed and reminiscent about nights on the piss. 'Repeater Repeater' sends the album on an unexpectedly dark turn, jarring panic inducing guitar riffs and crashing cymbal driven drum parts backing a raw lyrical look at the effects of an abusive relationship.
'Bitter Hearts' is a polished slice of rock radio ready post-hardcore which, alongside the sweeping, melody driven mid tempo ballad 'Dearest On Show', make up the record's most widely accessible moments. The latter also is a rare chance for Davies' vocal to really shine without having to compete for space and attention with the plethora of guitar and bass tracks.
'Moral Colour' is ten tracks of towering heart on the sleeve alternative rock that is intelligently crafted and possesses melodies the size of star systems. The musical and lyrical depth is remarkable for such a young band and reveals something new with every listen.
Stars and Flights are one of the finest emotive heavy rock outfits to emerge from the valleys since Funeral For A Friend were in their not quite forgotten heyday. Although slightly lacking that 'every song could be a single' feel of a truly great album, 'Moral Colour' showcases Stars and Flights' first rate musician ship as well as flashes of a keen ear for epic melodies and choruses. If future releases were to give more room for Davies to display his vocal clout and a clearer delivery of his lyrical skills, then Stars and Flights should quickly start to live up to the standards set by so many of their illustrious compatriots.
4/5
'Moral Colour' by Stars and Flights is out now on Ghoulish Records.
Stars and Flights links: Website|Facebook|Twitter|Tumblr
Words by Dane Wright (@MrDaneWright)